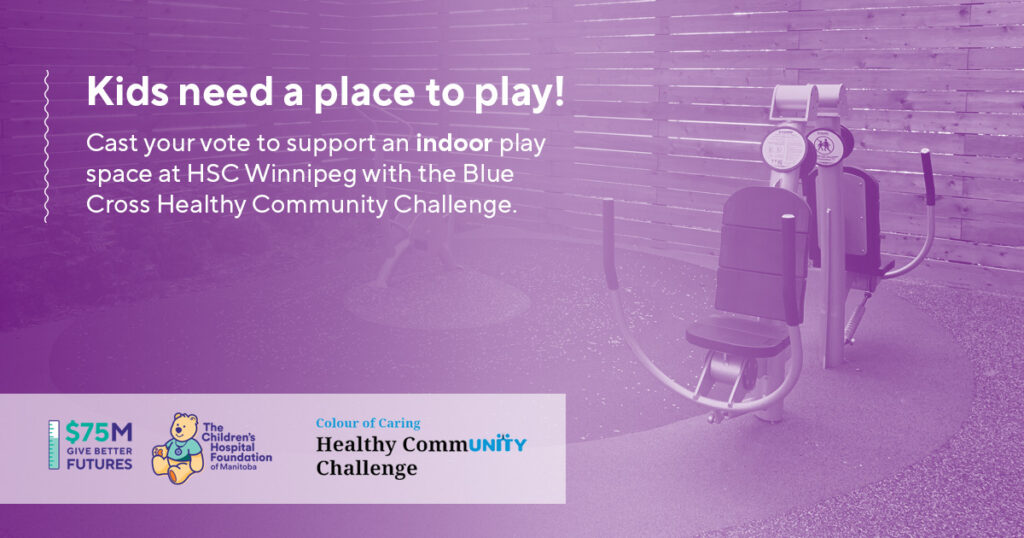 The Children's Hospital Foundation is a finalist for the Manitoba Blue Cross Healthy CommUNITY Challenge to win $25,000 towards the redevelopment of the Active Indoor Play Space to support the Child & Adolescent Mental Health inpatient unit at HSC Winnipeg.
You can support the Active Indoor Play Space by voting for this project.
Mental illness is a leading cause of disability in Canada with 70% of mental health problems and illnesses having their onset during childhood or adolescence.
In Manitoba, more than 1,400 kids and teens need an urgent mental health assessment annually. About 600 of these youth are admitted to the Child & Adolescent Mental Health inpatient unit every year for acute mental health issues, like depression, severe anxiety, psychosis and suicidal thoughts.
Physical activity plays a significant role in developing the brain and supporting essential mental functions. The development of an indoor play space will strive to help patients experience a reduction in depression, anxiety and stress, and learn coping tools for their future. This safe space will include an area for independent workouts and yoga to provide a welcome distraction for inpatients daily.
*Voting ends November 2, 2022.
Thanks to generous donor support, an outdoor play space for the Mental Health Inpatient Unit at HSC Winnipeg opened in summer, 2022.