May 2023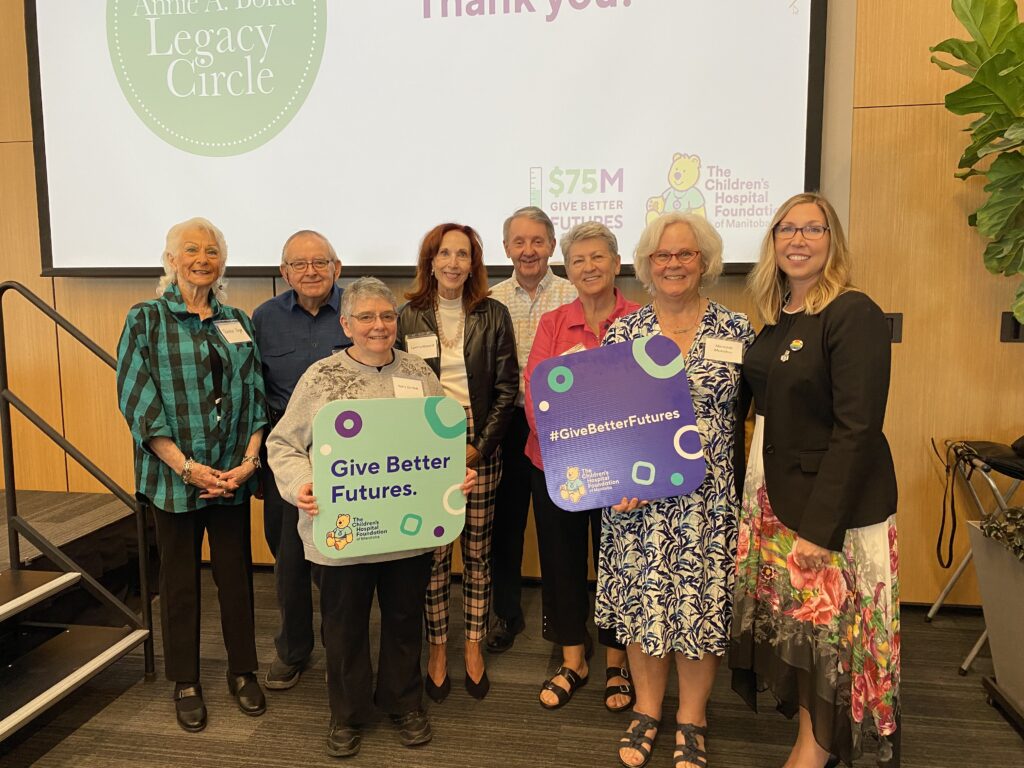 As I look towards the future, it's the tiny feet of yesterday, today and tomorrow that give me hope. Children in our community will become the leaders and champions we look up to, and trust to build a better world. And it's so important we make sure they have the care they need to lead the healthiest lives possible through specialized care at HSC Children's Hospital and cutting-edge research at the Children's Hospital Research Institute of Manitoba (CHRIM).
May is Leave a Legacy month – a time to reflect and plan the legacies we will leave behind for kids as they grow. A planned gift to the Children's Hospital Foundation of Manitoba will help #GiveBetterFutures for sick and injured kids, and their families, for years to come.
There are so many ways to keep children in mind as we plan, like a gift in a will, a gift of insurance, a trust, RRSPs, life insurance policies or other planned gift. At the Foundation, we're so grateful for those who hold families forever in their hearts by making a legacy gift.
When you share your intention to make a planned gift, you join a group of generous and caring community members in the Annie A. Bond Legacy Circle, named to honour the dedicated nurse who opened our children's hospital in 1909.
We're so thankful for Annie A. Bond Legacy Circle members, like Kathryn McBurney, whose daughter, Quinn, needed HSC Children's not once, but twice. First for life-saving care after a critical collision, and then for gender-affirming care.
"I want every child to have a better future like mine now does," says Kathryn.
Legacy giving is often a family decision, and that rings true for Allan and Kerry Bartlett. They have planned a legacy gift to support CHRIM's future, to share their gratitude for research that saved their son Bryan's life.
When Bryan was two days old, and already recovering from a surgery to clear a bowel obstruction, he contracted spinal meningitis. Doctors treated Bryan with a newly developed drug, and it saved his life.
"Our financial situation got to the point where we had some money to give and so we started to give back to HSC Children's Hospital. Because of our experience with Bryan and recognizing the fact that it was research that discovered the drug that saved our son's life, our reason for donating a legacy gift is to keep that research going. We wouldn't have Bryan without it."
Sheila and Daryl Reid generously chose to make a gift in both their wills to say thank you to healthcare heroes. They experienced the heartbreaking loss of their son, Jordan, shortly after he was born due to a rare condition. Though it was an incredibly difficult time, they felt supported by the team at HSC Children's.
"We saw first-hand an amazing team of people. People who deeply cared about the sick and injured children in our community. And who also care about the pain that parents like us feel when their children suffer. That's why we both decided to make special gifts in our wills to help sick kids at the Children's Hospital."
Whether you're a parent, grandparent, aunt, uncle, caregiver, or friend, we all want to see the children in our lives thrive and flourish. Help make sure all kids have the best care possible when they need it most by planning for the future.
Learn more about making a legacy or planned gift to Children's Hospital Foundation by contacting Courtney Nodrick at cnodrick@goodbear.ca or 204-594-5337.