At a standard annual pediatric checkup, a doctor for two-year-old Parker Meredith heard a heart murmur and quickly referred the family to the cardiology department of HSC Winnipeg Children's Hospital.
There the cardiac team determined Parker had a coarctation of the aorta and a bicuspid valve.
"Suddenly there is uncertainty, the unknown, the fears," says Andrea, Parker's mom. "I just told him, 'You have an owie on your heart.'"
A bicuspid valve causes reduced blood flow from the heart to the body. A coarctation of the aorta is often considered a critical congenital heart defect because the aorta does not form correctly as the baby grows and develops during pregnancy; part of the aorta ends up being narrowed. If the narrowing is severe enough and if it is not diagnosed, the baby may have serious problems and may need surgery or other procedures soon after birth.
Parker's was not found until age two. He needed urgent heart surgery.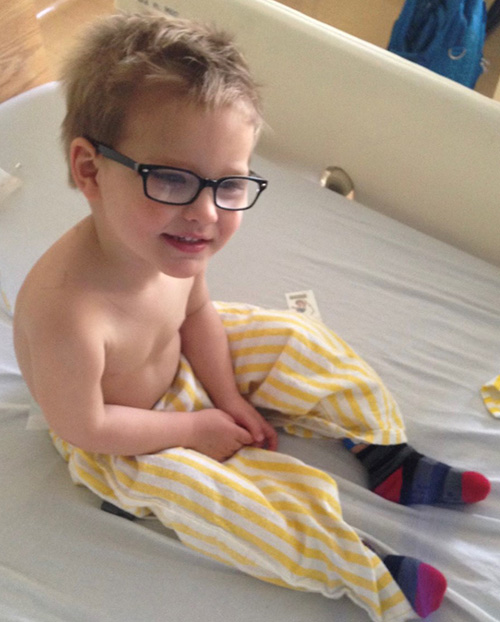 Now age nine, Parker is active in hockey, Jiu Jitsu, quadding, building with Lego and more. But the uncertainty remains. His next medical steps are always dependent on how fast he grows and if his heart can keep up. Because of this, Parker continues visits to the Children's Heart Centre at HSC Children's every six months.
"I worry whether he will always be able to keep up with other kids and continue the activities he loves," says Andrea. But despite these worries, she says the care received at HSC Children's continues to give her family hope.
"Knowing that Parker stands a chance because of the commitment and support there. The nurses and doctors have empathy and compassion for the kids and the families. I always feel we are in the best possible hands."
She adds that the donors who made the new Heart Centre, which opened in 2021, are her family's heroes. "It is beautiful. It feels safe, inviting, and comfortable for the kids who need to be there so often. Parker likes that he can look out the windows and he likes some of the fun components like the coloured lighting and carnival style mirrors. "
The new Travis Price Children's Heart Centre was part of a $17M cardiac campaign which also added a catheterization lab and fluoroscopy lab, new specialized equipment, and vital signs remote monitoring capabilities across all inpatient units in HSC Children's. The Heart Centre is now located closer to critical infrastructure that kids with heart conditions may need, like the Children's Emergency Department, operating rooms, Pediatric Intensive Care Unit, and diagnostic tools including the new pediatric MRI, x-ray and the new cath lab.
Learn how you can be part of the next campaign to help change the future for kids like Parker at goodbear.ca.