Exciting event helps kids in hospital celebrate Halloween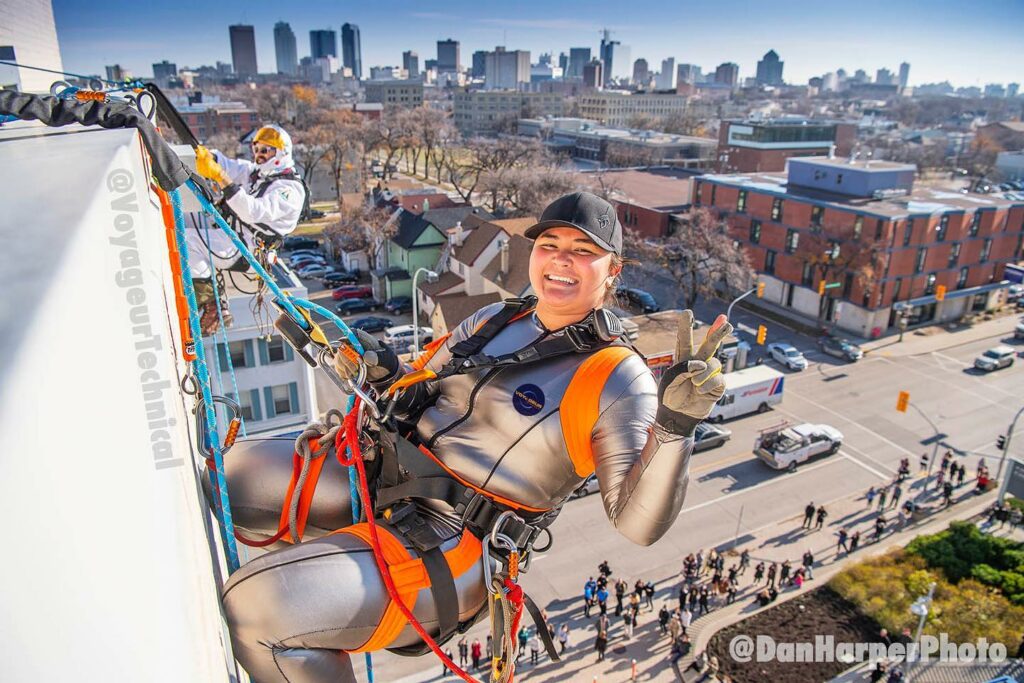 Winnipeg, MB (October 27, 2022) – Sick and injured kids got an exciting visit from some of their favourite characters and first responder heroes today as skilled professionals rappelled down HSC Winnipeg Children's Hospital windows to wave hello. Specially trained fliers wore costumes and uniforms – along with safety harnesses – for an unforgettable Halloween celebration.
The event was led by Voyageur Technical, a Winnipeg-based company specializing in access and rescue solutions and consulting. Fliers included members of Voyageur Technical, the RCMP Emergency Response Team and the Winnipeg Police Service Tactical Support Team.
Health care providers say opportunities to make meaningful memories are important for families in hospital, especially during holidays.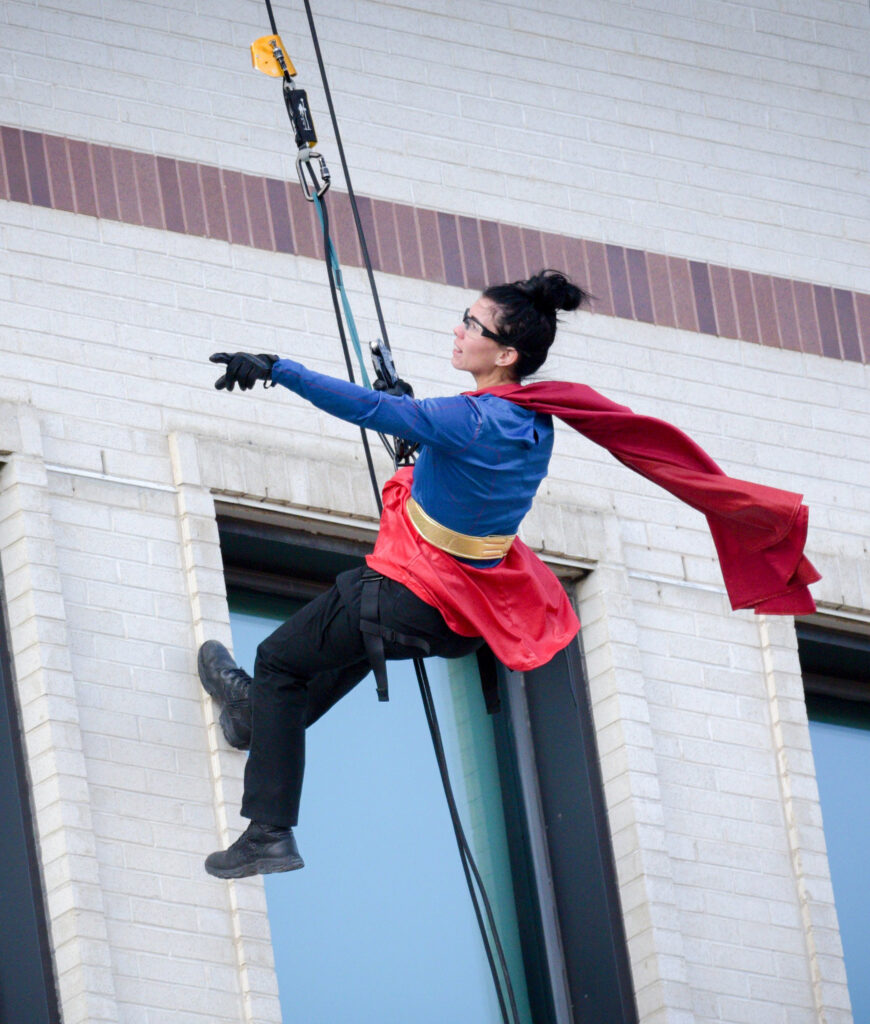 "We know celebrations, purposeful activity and a sense of belonging are an important part of a child's well-being and recovery in hospital. We welcome innovative activities that bring safe, joyful, meaningful experiences to patients and their families," says Laura Ebenspanger, manager of Patient Care – Ambulatory Care at HSC Children's Hospital. "What a wonderful way to have fun and celebrate Halloween!"
Voyageur Technical, the RCMP and Winnipeg Police Service were excited to harness their creativity and specialized skills to give back and support families in hospital.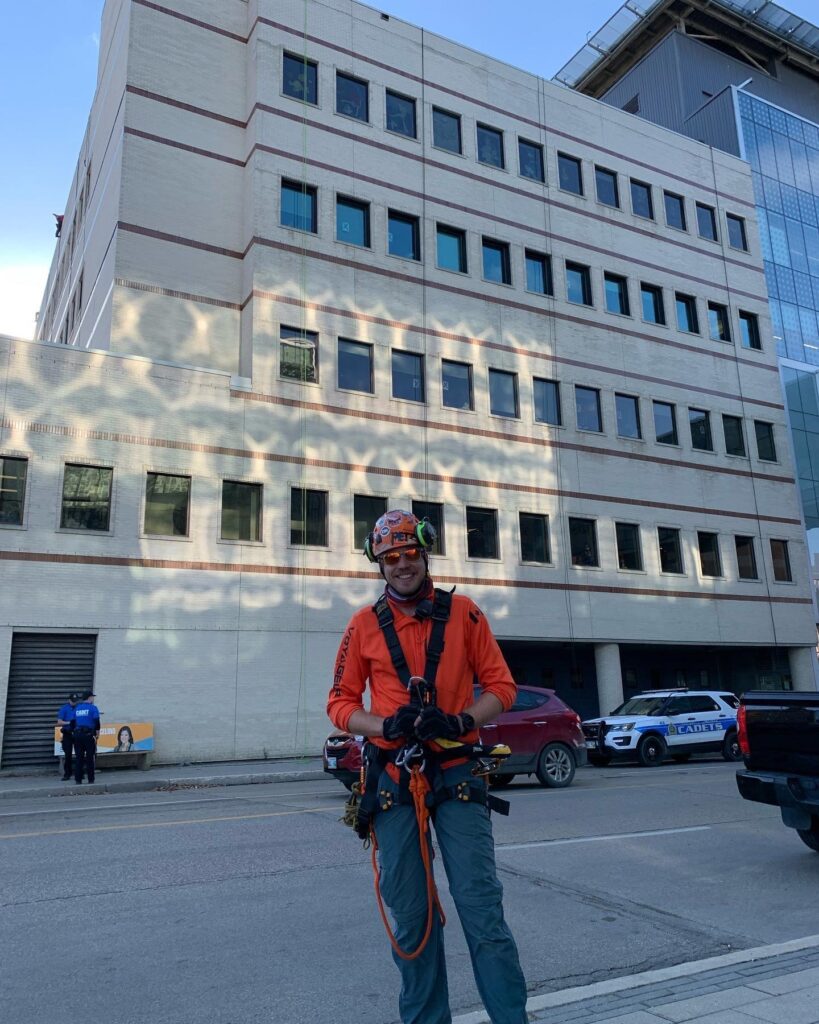 "As a local access and rescue company we try to focus on projects with meaning to the community – like Suspended Superheroes. We're very glad we were able to bring a joyful event to the hospital. Each smiling kid, parent and caregiver makes the event worthwhile," says Chris Toews, managing director of Voyageur Technical.
"We're extremely grateful to the Winnipeg Police Service, RCMP, HSC Children's Hospital and Children's Hospital Foundation for their incredible support in making this happen."
"There is nothing better than to see a smile on a child's face, especially when we know the struggles that are being faced by the kids in the hospital," says Sergeant Geoff Corbett of the RCMP Emergency Response Team. "To be able to participate in an event solely dedicated to bringing some joy to those who are going through a difficult time is something we wouldn't miss."
"The Winnipeg Police Service Tactical Support Team is thrilled to have been invited by Voyageur Technical to participate in Suspended Superheroes. Almost all of us have kids of our own, and have spent time in hospital ourselves," says Constable Jeff Driedger of the Winnipeg Police Service Tactical Support Team. "We can only imagine what being an inpatient as a child would be like. Any event where we have an opportunity to interact with kids and brighten their day is as enjoyable for us as it is for them."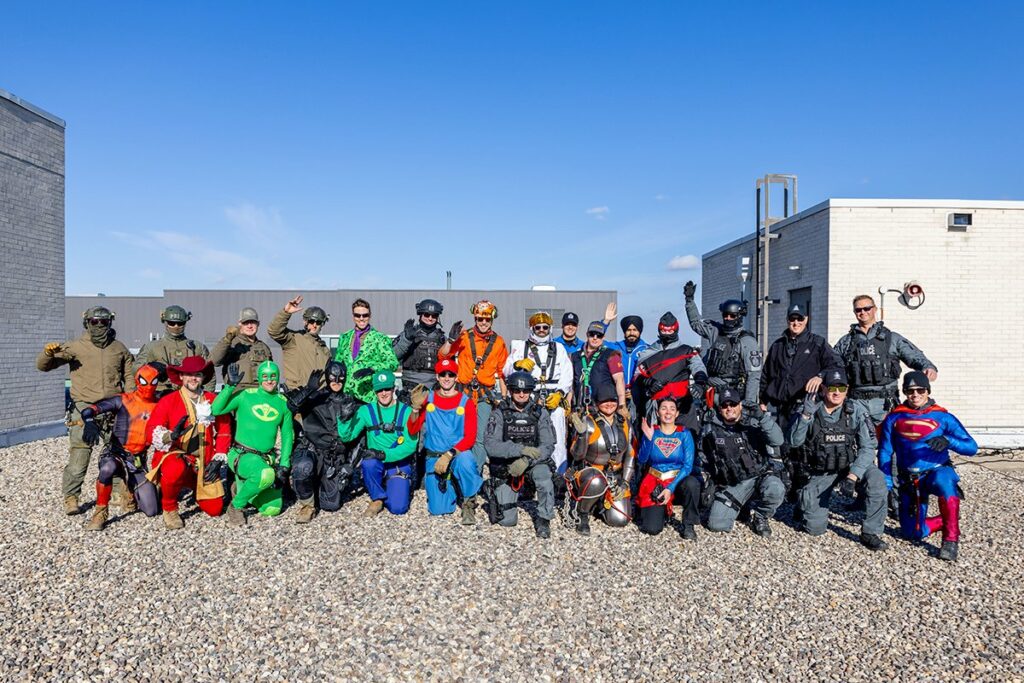 The Children's Hospital Foundation is thankful for leaders in our community who find creative ways to help families with sick and injured children.
"Being in hospital always presents challenges for kids, but during exciting events like Halloween it can be even more difficult," says Stefano Grande, president and CEO of Children's Hospital Foundation of Manitoba. "We're so grateful for community partners like Voyageur Technical, the RCMP and the Winnipeg Police Service for finding fun and creative ways to bring joy to children, their families, and the health care heroes who look after them."
Fliers from Voyageur Technical and the RCMP wore costumes generously provided by Heather's Pretty Parties.