Dr. Goodbear facemasks raise $100,000 and counting to help sick and injured kids
Winnipeg MB (November 6, 2020) – Sick kids can't wait for an economic recovery or cure for COVID-19. That's why Children's Hospital Foundation of Manitoba launched Dr. Goodbear reusable cloth face masks, with 100 percent of sales supporting sick kids in hospital. Sales of the masks have raised more than $100,000 to date.
"Kids in hospital rely on the generosity of Manitobans to support programs that make hospital stays a little easier," says Stefano Grande, President and CEO. "With the cancellation of events like Children's Hospital Book Market that are critical to funding programs like Child Life–which are more important than ever with visiting restrictions – we saw an opportunity to make an impact that helped address two important needs: keeping kids safe and helping sick kids get better. Community response has been overwhelming."
Long-time partner Walmart launched the Dr. Goodbear masks at local stores in August, selling out in no time. The HSC Winnipeg Gift Shop sold out of their first shipment in days. Corporate supporters like PCL, FoodFare and CanadInns-Health Sciences Centre purchased masks for members of their teams. The number of organizations interested in the masks continues to grow.
"We are thrilled to continue supporting Children's Hospital Foundation by selling the Dr. Goodbear masks," says Eric Payne, Manitoba Market Leader,Walmart Canada. "We want to thank our associates and customers for supporting a great cause and we look forward to selling them again inNovember, in time for the holiday season."
Community partners have also responded to the need to keep people safe, helping the Foundation ensure people coming to hospital who may not be able to afford reusable masks of their own have them.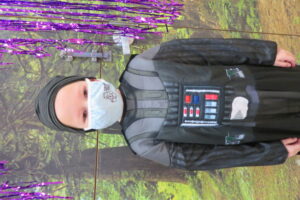 Sew4Kids, a group of Children's Hospital of Manitoba Guild members, have been sewing many hundreds of reusable masks for distribution to adults and kids since the summer, and will continue so long as there is a need. Mr. Albert El-Tassi also donated 1,000 reusable cloth masks for this purpose. The Foundation packaged 2,000 masks donated via earlier calls for support by government for the hospital to distribute.
The Foundation is also distributing a special edition Dr. Goodbear mask, in light teal similar to the colour of surgical scrubs, to all 8,000 staff who work at HSC Winnipeg. And sick kids in hospital on Halloween received special edition Dr. Goodbear masks during the reverse trick-or-treat that saw residents and Child Life staff safely bring treats to inpatients. The Foundation has also purchased several thousand more masks to have on hand should a child or adult need one while visiting the hospital.
"We are so grateful to all the healthcare providers and support staff across the entire HSC Winnipeg for everything they do for patients," says Grande. "The masks are one more way we can support their efforts to provide the best care possible."
Dr. Goodbear masks are available for $6 each at Manitoba Walmart stores, all three SaveOn Foods, FreshCo Jefferson, the three Coop Food Stores in Winnipeg, FoodFare grocery stores, and the Children's Hospital Guild's Nearly New Shop (961 Portage Avenue). One hundred percent of sales support sick kids at Children's Hospital.
About Children's Hospital Foundation of Manitoba
The Children's Hospital Foundation of Manitoba is dedicated to ensuring that every child treated at the HSC Winnipeg Children's Hospital receives the best medical care possible.

Since 1971, with incredible donor support, the Foundation has raised more than $100 million to improve the lives of sick and injured children from Manitoba, Northwestern Ontario, and Nunavut. Funding supports important programs that bring comfort to sick children during difficult times, the purchase of life-saving equipment, and the advancement of pediatric health research that will improve the lives of children everywhere. Learn more about ways to help at goodbear.ca.