April 2023
Manitobans are a group of deeply generous people, and there are so many ways our community supports one another, including volunteering.
Volunteer appreciation week is April 16 – 22, but at Children's Hospital Foundation of Manitoba we are grateful all year for the amazing folks who give of their time and talent to help #GiveBetterFutures for sick and injured kids.
I want to tell you about a special group of volunteers, who pull together to execute the Children's Hospital Book Market every spring and fall (with a hiatus during the pandemic). This event is critical to supporting families who need HSC Children's Hospital and is a massive logistical challenge. But the fabulous folks behind the scenes have it down to a science.
For as long as she can remember, Carol Irving has been involved with the Book Market—and it's a cause that hits close to home.
Carol's aunt was one of the original Book Marketeers in 1961, when the market was first established.
"My aunt lost a son to brain cancer. Losing a child is an unimaginable tragedy, and her doctor suggested she volunteer with an organization involving children to help with her recovery," Carol recalls. "I wanted to support the Children's Hospital too, since I had firsthand experience losing someone I loved—my cousin—to a childhood disease."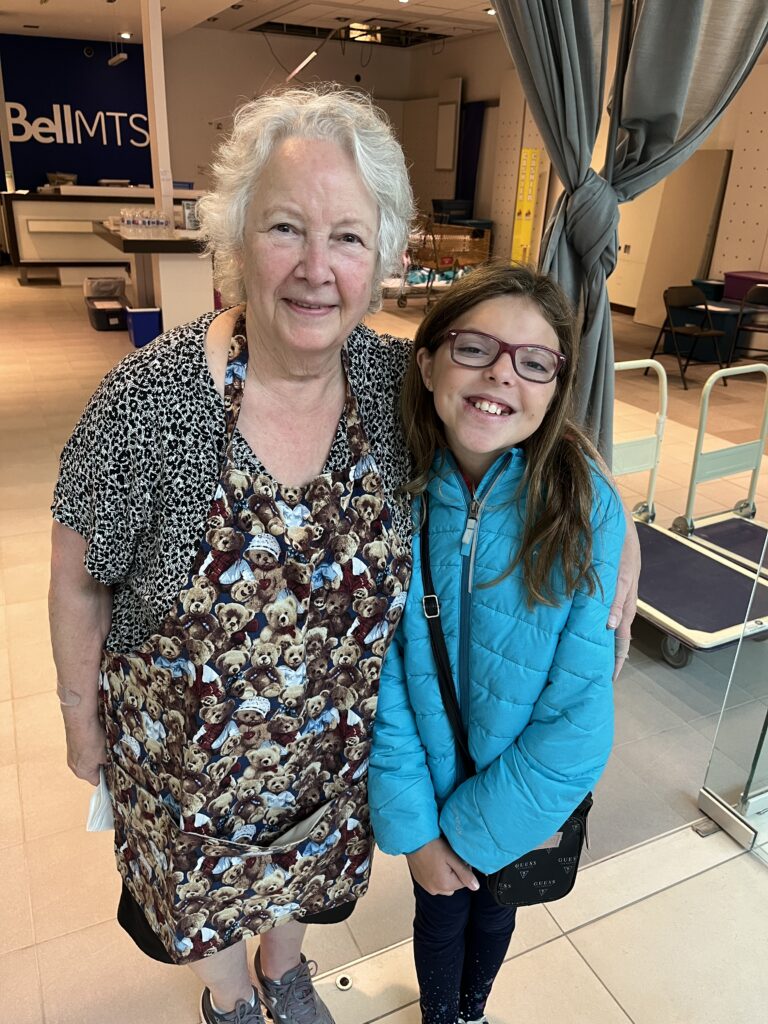 Volunteering at the market soon became a family affair. When Carol was younger, she volunteered alongside her aunt and other family members. She also acted as chair of the board until she took on her current role as the market's volunteer coordinator in 2004.
Like Carol, long-time volunteer Gail Kushnier also became involved with the market because of family.
"My sister asked me to come down and help," she remembers. "I've been a volunteer all my life as my father was a big advocate for volunteering, and the Book Market was a terrific fit."
Coordinating the children's book section was perfect for Gail, who is ecstatic to see how much the market has grown.
"We probably had four or five tables of books at the time—now, I manage between 70 and 80 tables in 100+ categories," says Gail.
Manitobans may be unaware of the sheer volume of people-hours required for the market to run smoothly. The process kicks off with a group of volunteers who unload, sort, price and pack the donated books.
"After they're packed, the warehouse crew takes the boxes and puts them on pallets, where they're shrink-wrapped and taken to our second warehouse to get ready for sale," says Carol.
Volunteers load supplies onto trucks to be taken to St. Vital Centre, where the market resides, and unpack them in a space dedicated for the market. Another group arrives a few days prior to the sale to help set up tables; another offloads 96 pallets of books (with 48 boxes on each) from four semi-trucks, which are then unpacked and arranged.
Finally, there are the volunteers at the sale itself, who replenish books throughout the day, work the cash register and bag customers' purchases.
"Then, at the end of the sale, everything is collapsed and packed up—and we start the whole process again," laughs Carol. "You need a lot of volunteers to do what we do."
Now a Winnipeg institution, the Book Market raises hundreds of thousands of dollars annually for Child Life programing at HSC Children's Hospital. This year, funds will go toward the Children's Hospital Foundation's $75 million Better Futures campaign, Manitoba's largest-ever donor-driven campaign in support of child health.
You can learn more about Children's Hospital Book Market at goodbear.ca/Events
The spring Book Market is April 20-21 at St. Vital Centre. Donate new or gently used books at the locations below:
Any Manitoba Dufresne store
Winnipeg Fire Paramedic Service stations
Daytona show homes (792 Blvd De La Seigneurie – Bonavista, 31 Sheilagh Ball Cove – Devonshire Park, 3 Pegasus – Aurora at Northpoint, 187 Big Bluestem Road – Summerlea)