March 2023
For many of us, watching TV is an escape or a fun way to unwind after a long day. For sick and injured kids at HSC Children's Hospital, Children's Hospital Television (CHTV) is so much more.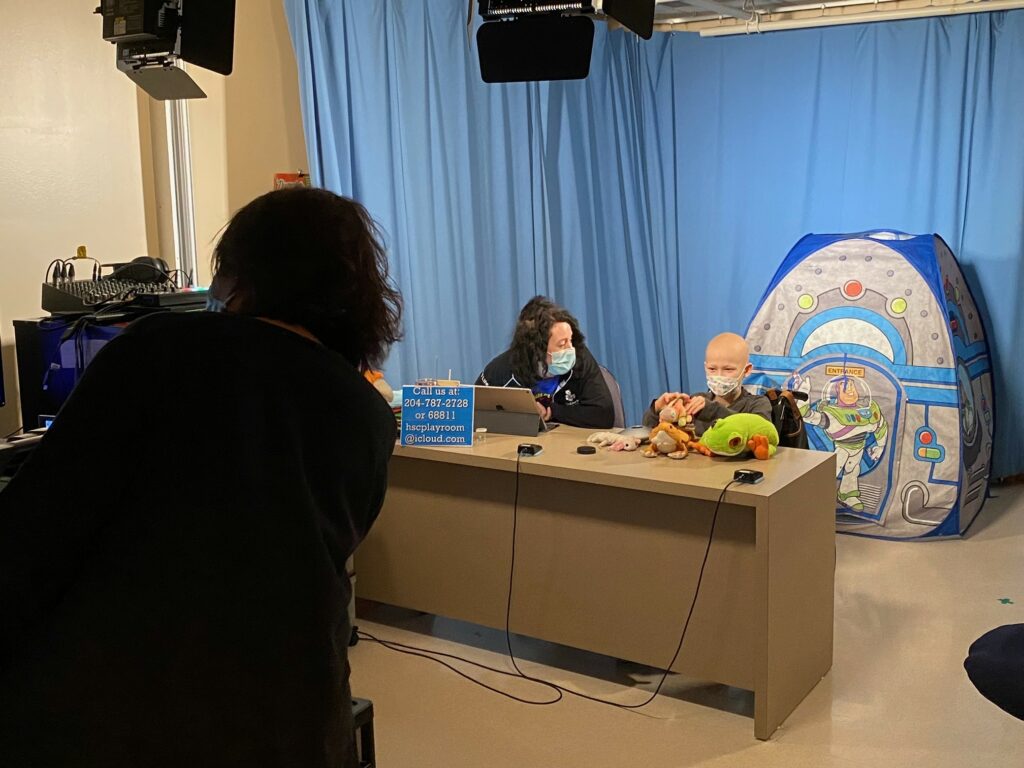 I want you to imagine you've been in the same room for days on end, or maybe even months. Or that you're going to an unfamiliar place for the first time because you need medical treatment. Where do you turn for support, distraction, or a sense of belonging? CHTV provides all that for kids at HSC Children's, whether they're stopping by for an hour-long appointment or staying for a long time.
CHTV is a special channel that broadcasts to every child's room at HSC Children's and in every clinic and waiting room. The content is made for all ages and includes movies and shows that represent diverse groups so everyone can see themselves on screen. CHTV also has an engaging live show every weekday at 1:00 pm called The Good Day Show, hosted by the hardest working sock puppet in town: Noname.
Noname is a nine-year-old character who comes to life on The Good Day Show with the help of Child Life specialists, who are experts in child development and helping kids cope with life in hospital.
"CHTV and The Good Day Show specifically give kids in hospital a sense of belonging in an unfamiliar setting," says Child Life specialist, Maria Soroka. "They can count on Noname to say hi to them every weekday. He's a reliable, consistent friend who they can see at the same time every day, when other things in their environment are less predictable."
On The Good Day Show Child Life specialists lead crafts, play bingo, celebrate holidays, chat with special guests – like Winnipeg Blue Bomber Adam Bighill who shared a story during I Love to read Month – and much more. They also invite patients to come on the show which gives kids an opportunity to be creative, alleviate boredom, and interact with their peers.
This means the world to children like Cain, who spent countless days in hospital after being diagnosed with bone cancer. Cain needed intensive treatment including chemotherapy and surgery, and his family says appearing on CHTV's The Good Day Show was deeply meaningful.
"This was everything to Cain. It gave him something to look forward to each day, and it brought joy into his stays at the hospital," says Cain's mom, Danica. "It was also a wonderful distraction, when he was on the show it was like he was himself again, playing and using his imagination to take a break from treatment and the pain he was often in."
Now Cain is in remission and gives back by fundraising for other kids who need the hospital. His community of Minnedosa, Manitoba rallied together make a $5,000 gift for Child Life programming, like CHTV.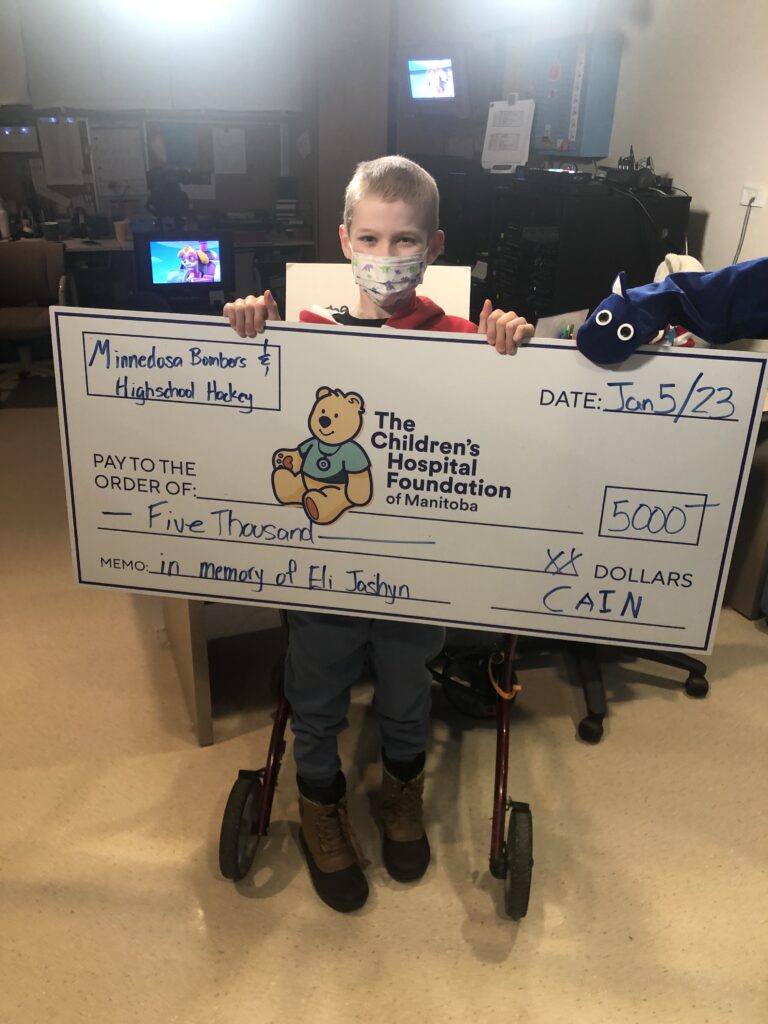 Child Life programming also includes music therapy, a library program, and a playroom with a mini hospital environment where kids can learn about what they will experience during treatments and procedures. March is Child Life month, and we're celebrating the many ways Child Life programs support families at HSC Children's.
Child Life programming is possible thanks entirely to generous donors of the Children's Hospital Foundation of Manitoba and through community events like the Children's Hospital Book Market coming up on April 21-22, 2023 at St. Vital Centre. Learn more at goodbear.ca/Events.
We're so grateful for #KidsHelpingKids and #CommunityChampions, like Cain, who dedicate their gifts to helping make sure kids in hospital get a chance just to be kids.
Donate today to #GiveBetterFutures for sick and injured kids in your community at goodbear.ca