(January 16, 2020) – At 5 months old, Brady's parents noticed unusual spots on his body. He was seen by a dermatologist who diagnosed the little boy with Type 1 Neurofibromatosis – a genetic disorder that causes tumors to form on nerve tissue. These tumours can develop anywhere in the nervous system, including the brain, spinal cord and nerves. Brady now has more than 100 tumours in his body including a plexiform neurofibroma that cannot be removed from his spine and is so large it has caused Brady's spine to drastically bend.
"My spine bends like a tree with branches too heavy on one side," says 12-year-old Brady.
Brady has now had three spinal surgeries to implant and lengthen rods in his back to keep his spine straighter. He will continue to visit the Children's Hospital- HSC Winnipeg as his tumor growths require continued monitoring and his spinal rods need to be adjusted as he grows. Despite the rods in his back and the major surgeries he has had, Brady is perseverant and doesn't let anything stand in his way. He plays hockey, baseball, and participates in an annual neurofibromatosis run. His perseverance is the trait that helped Brady become the 2020 Champion Child for Children's Hospital Foundation of Manitoba.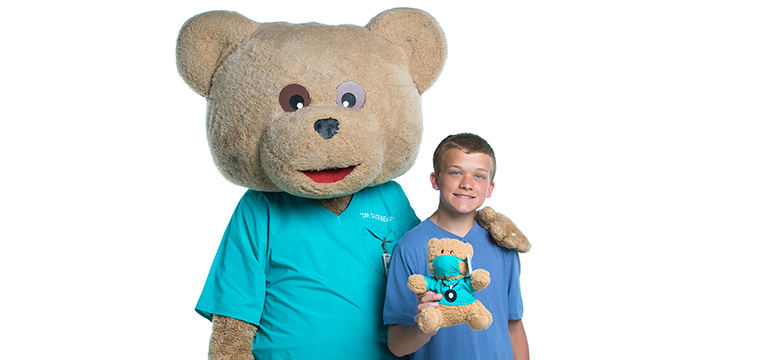 For the next year, Brady will represent Manitoba as an ambassador for the 130,000 children who need the Children's Hospital each year. In April, Brady will travel to Orlando for #ChildrensHospitalsWeek to meet other Champions from across North America. There he will celebrate his achievements and meet with international media to showcase what an amazing hospital and research institute we have here in Manitoba. On top of this, Brady has set a goal to raise money for specialized equipment in the hospital, like the surgical tools that helped straighten his spine. Learn more at goodbear.ca/champions/brady
The Champions program is part of the Children's Miracle Network® and is affiliated with Children's Hospitals Week, supported by Walmart Canada, the Brick and Air Canada Foundation.
About the Champions Program

Every year in Canada, local Children's Miracle Network (CMN) member hospitals identify a "Champion" in each of their local communities to serve as the face for children treated at their local children's hospital. These brave and spirited ambassadors spend their year advocating for the charitable need of children's hospitals by sharing their unique stories with Canadians, their communities and partners. Their goal is to encourage everyone to join the fight for children's health through local support, events and CMN Canada programs.
One of the largest celebrations of these Champions takes place during Children's Hospitals Week. Children's Hospitals Week Canada is supported by Walmart and additional sponsors The Brick and Air Canada Foundation. Champion children, member hospital foundation ambassadors, and corporate partners will all gather together in Orlando, Florida, to promote the hospitals' need for funds.
Children's hospitals rely on donations to provide care for kids — no matter their illnesses or injuries. Help spread this message during #ChildrensHospitalsWeek, beginning April 6, 2020. childrensmiraclenetworkhospitals.org/childrenshospitalsweek
About Children's Hospital Foundation of Manitoba

The Children's Hospital Foundation of Manitoba is dedicated to ensuring that every child treated at the Children's Hospital receives the best medical care possible.

Since 1971, with incredible donor support, the Foundation has raised more than $100 million to improve the lives of sick and injured children from Manitoba, Northwestern Ontario, and Nunavut. Funding supports important programs that bring comfort to sick children during difficult times, the purchase of life-saving equipment, and the advancement of pediatric health research that will improve the lives of children everywhere. Learn more about the impact you make at goodbear.ca.