Research funded for three years through Sobeys Family of Support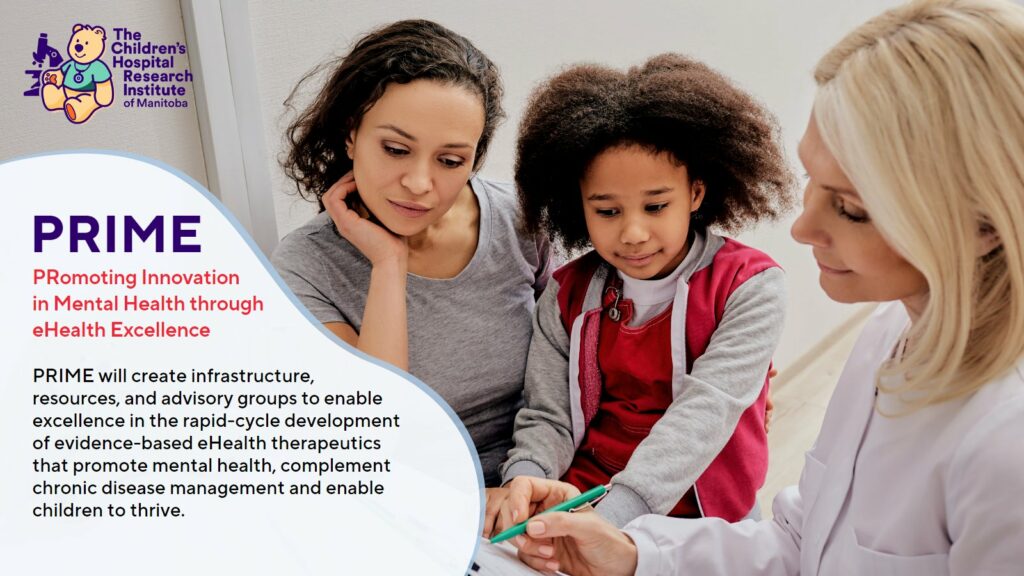 Winnipeg, Treaty One Territory, MB (November 23, 2022) – A fully donor funded new research theme dedicated to developing innovative mental health programs for children and youth has launched today through the Children's Hospital Research Institute of Manitoba. PRIME – PRomoting Innovation in Mental Health through eHealth Excellence – will create infrastructure, resources, and advisory groups to enable excellence in the rapid-cycle development of evidence-based eHealth therapeutics that promote mental health, complement chronic disease management and enable children to thrive.
"Through evidence-based eHealth interventions, PRIME's goal is to help reduce wait times, provide supports, services and access to rural communities and reduce health system costs," says Dr. Terry Klassen, CEO & Scientific Director, Children's Hospital Research Institute of Manitoba. "eHealth technologies offer tremendous potential to advance the reach and efficacy of mental health therapeutics to an increasingly digital-connected population while also enhancing in-person services, tailored to community needs."
The PRIME research theme is fully funded at $150,000 annually for the next three years, thanks to the Sobeys Family of Support fundraising initiative in partnership with Children's Hospital Foundation of Manitoba.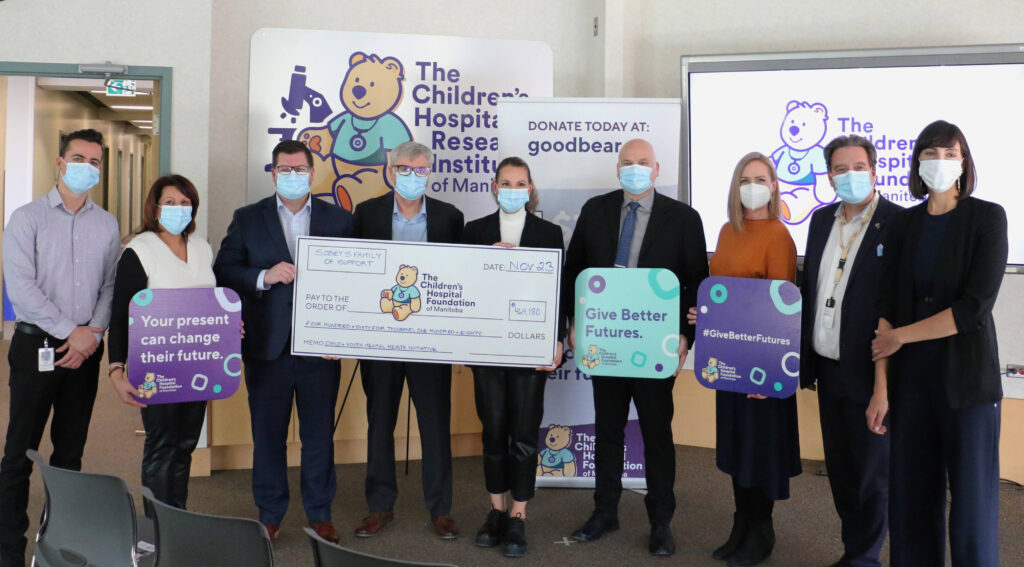 "We are a Canada-wide family of support, funding programs so that more kids can access mental health supports early, giving them the best possible chance to thrive," said Sandra Sanderson, Senior Vice-President of Marketing at Sobeys Inc. "Thanks to customer donations at our stores, we are together able to support initiatives like PRIME to address mental health needs for kids and families within our communities."
PRIME brings together shared expertise in unmet child mental health and program development needs with a dedicated team of eHealth professionals will help reduce burdens of mental illness in Manitoba and potentially across the country.
"Thanks to the incredible support of Sobeys, we now have funding for these devoted researchers to be creative and innovative in developing new and ongoing important mental health care and treatment of children and adolescents – which is now more important than ever before," says Stefano Grande, President and CEO of Children's Hospital Foundation of Manitoba. "Pediatric reports highlight an imminent need to address the child mental health crisis and ensure children in need of services can receive adequate care. We are pleased to be partnered with Sobeys Family of Support who recognize this critical need to fund a diverse range of innovative child and youth mental health programs."
Mental illness is a leading cause of disability in Canada, with 70% of mental health problems and illnesses having their onset during childhood or adolescence. Children's hospitals across Canada are facing unprecedented demand for mental health services. Unfortunately, the impacts of COVID-19 have created an even greater need for this kind of support for children and teens.
Children's Hospital Research Institute of Manitoba members hold strong foundational knowledge and are rapidly building eHealth models to address timely needs such as trauma-informed therapy to promote perinatal health, online social-support platforms for neurodiverse youth, and hybrid models of digital resources + clinician connection to address intergenerational mental illness. The research teams have built close partnerships with patient advisors holding lived experience with mental illness and intersecting inequities such as disability, chronic illness, or systemic racism to ensure research is aligned with community needs. With this burgeoning expertise has come clarity regarding unique challenges of eHealth research, such as industry partnerships, user-experience testing, confidentiality, and intellectual property considerations that require focused expertise beyond what is typically feasibility for individual project teams. PRIME will cultivate collective expertise in this new frontier of eHealth research to accelerate the development of evidenced-based services that improve child mental health and can be rapidly scaled to maximize impact.
#GiveBetterFutures with Children's Hospital Foundation of Manitoba
You can change a sick child's life through the current $75 million Better Futures campaign. History-making changes in child health will ensure sick kids get the care they need in places of comfort and healing, in environments that physically and technologically match the excellence provided by healthcare professionals today. They'll benefit from leading-edge research focused specifically on the unique needs of kids in our communities. Manitoba's largest-ever fundraising campaign for child health NEEDS YOU to help #GiveBetterFutures to sick and injured kids. Because your present can change their future.
Since 1971, with incredible donor support, the Children's Hospital Foundation of Manitoba has raised more than $165 million to help sick and injured children from Manitoba, Northwestern Ontario, and Nunavut. The Foundation is dedicated to ensuring that every child treated at HSC Children's Hospital has the best care experience possible and benefits from the leading-edge research at Children's Hospital Research Institute of Manitoba. Learn about your impact at goodbear.ca.