Vegas Golden Nights captain Mark Stone shares Stanley Cup® with children in hospital
Winnipeg, MB (July 26, 2023) – The Children's Hospital Foundation of Manitoba is deeply grateful to Mark Stone, captain of the 2022-23 Stanley Cup® champions Vegas Golden Knights, for making a special stop at HSC Children's Hospital to visit kids who need healthcare support.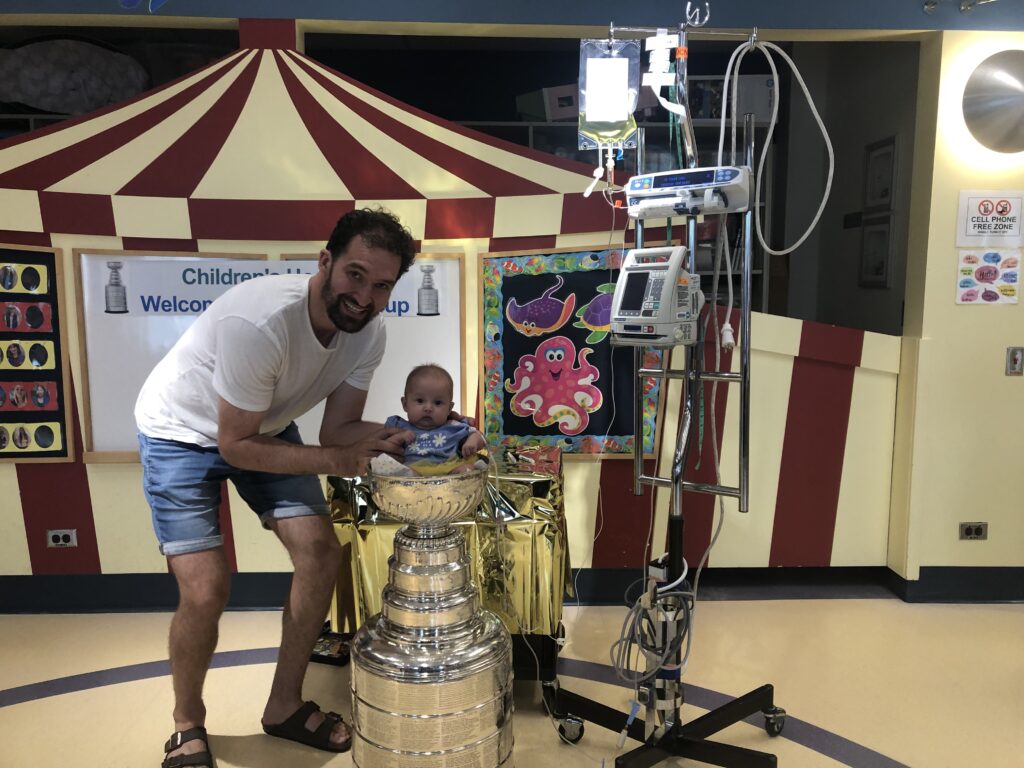 Stone and his family joined the Children's Hospital Foundation and HSC Children's Child Life department staff today in helping kids make meaningful memories by sharing the Stanley Cup®, participating in the Good Day Show on CHTV (closed circuit hospital TV) and visiting with children in hospital.
Stone was born in Winnipeg and began his professional hockey career by playing with the Brandon Wheat Kings, before he was drafted to the Ottawa Senators in 2012. Stone was named the first captain in Golden Knights history in 2021.
This year, Stone became the first player in the NHL modern era (since 1943-44) to help a team win the Stanley Cup® for the first time as its first captain, in a Stanley Cup®-clinching victory, 9-3 against the Florida Panthers in Game 5 of the series.
Kids and families at HSC Children's were thrilled to meet this NHL great. Child Life staff say special visits like Stone's not only help families create positive memories in hospital, but they also provide comfort, distraction and motivation for kids receiving treatment.
"Children can spend days, weeks, months and sometimes years in hospital depending on their condition and we know celebrations, purposeful activity and a sense of belonging are an important part of a child's well-being and recovery," says Laura Ebenspanger, manager of Patient Care – Ambulatory Care at HSC Children's. "We welcome engaging activities, like Mark Stone's special visit, that bring safe, joyful, meaningful experiences to patients and their families."
"We're so thankful for leaders like Mark Stone, who has shown a deep level of caring for his community by taking the time to visit children in hospital," says Stefano Grande, President and CEO, Children's Hospital Foundation. "Kids in hospital can face some extremely tough days, but moments like seeing the Stanley Cup® and meeting a local hockey hero like Mark Stone offer an opportunity for excitement, distraction and positive memories in hospital."

#GiveBetterFutures with Children's Hospital Foundation of Manitoba
You can change a sick child's life through the current $75 million Better Futures campaign. History-making changes in child health will ensure sick kids get the care they need in places of comfort and healing, in environments that physically and technologically match the excellence provided by healthcare professionals today. They'll benefit from leading-edge research focused specifically on the unique needs of kids in our communities. Manitoba's largest-ever fundraising campaign for child health NEEDS YOU to help #GiveBetterFutures to sick and injured kids. Because your present can change their future.
Since 1971, with incredible donor support, the Children's Hospital Foundation of Manitoba has raised more than $165 million to help sick and injured children from Manitoba, Northwestern Ontario, and Nunavut. The Foundation is dedicated to ensuring that every child treated at HSC Children's Hospital has the best care experience possible and benefits from the leading-edge research at Children's Hospital Research Institute of Manitoba. Learn about your impact at goodbear.ca.