On a warm fall day, as the leaves turned a soft yellow, the Children's Hospital Foundation team – along with our friends from Children's Hospital Research Institute of Manitoba (CHRIM) and the Indigenous Advisory Circle (IAC) to the Foundation – followed Highway 59 north to Sagkeeng First Nation for a meaningful gathering at Turtle Lodge.
This sacred place is a Center of Excellence in Indigenous Education and Wellness, and the Foundation team is honoured to have been invited by Founder, Elder Dr. Dave Courchene Jr., before he passed away.
Elder Dr. Courchene's son, Knowledge Keeper David Courchene III, explains Turtle Lodge is a fulfillment of a vision his father had, where he dreamed of a place to honour Mother Earth, connect in ceremony and learn through deep reflection.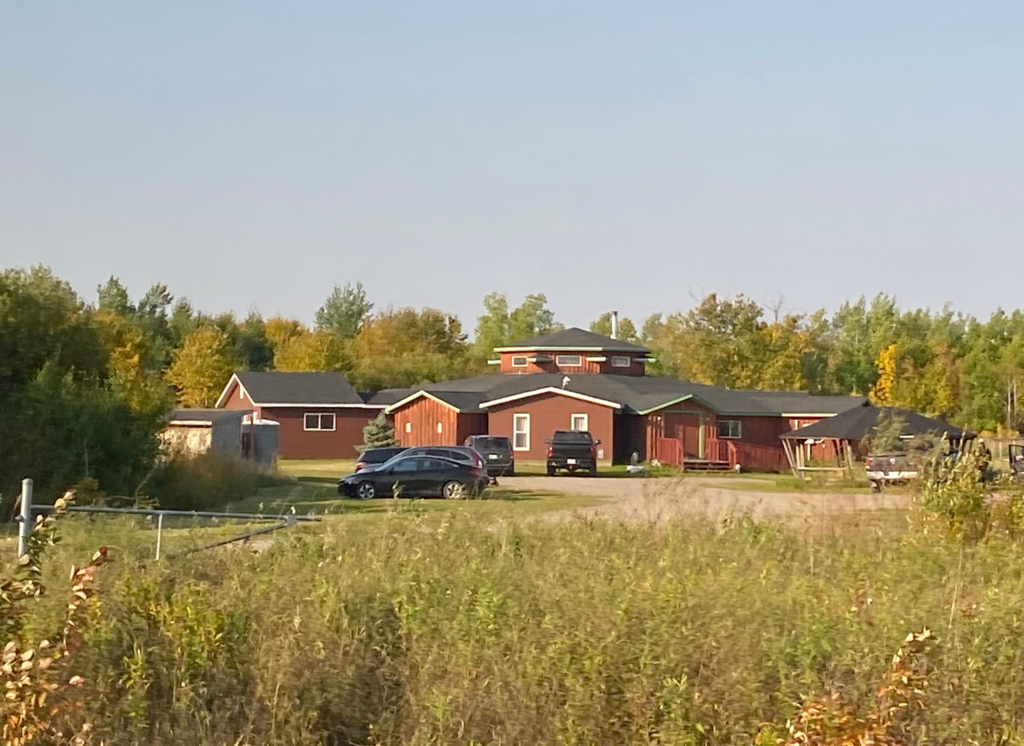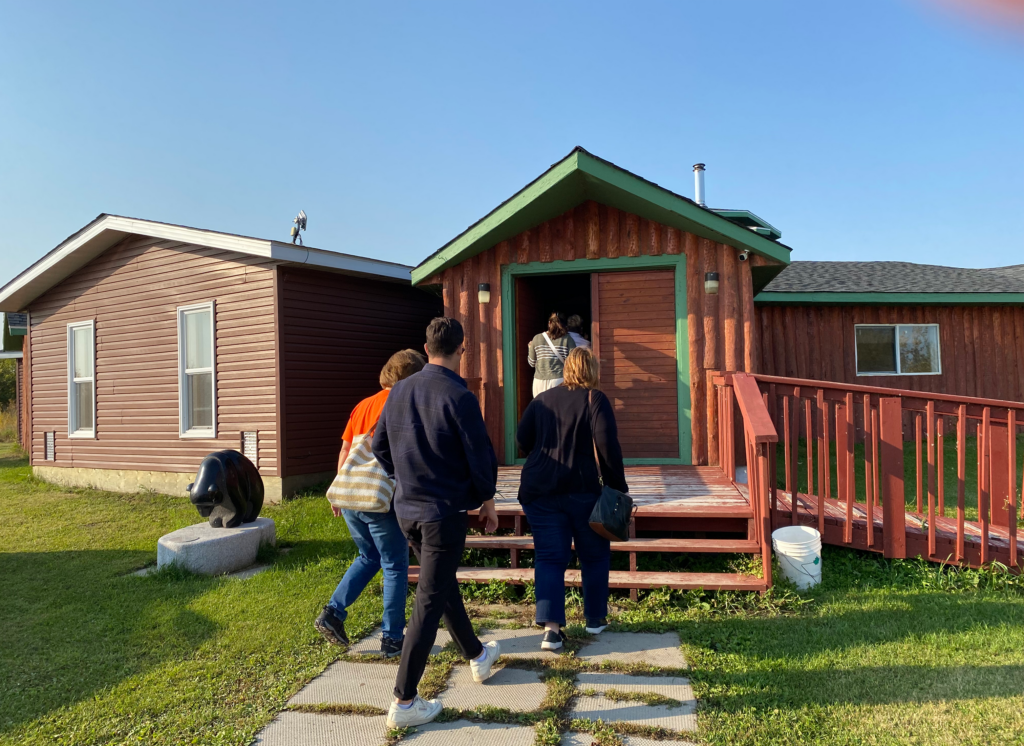 As our group steps through the doors of Turtle Lodge, we are met with the comforting smell of natural wood as we take in the sprawling circular space, built by volunteers with donated materials. Large eight-pointed star quilts hang over the walls, along with expressive artwork featuring the many creatures of Mother Earth, and ribbons flow from the ceiling bringing in bright flecks of colour. The structure is made with rows upon rows of carved logs, and the roof pulls together in a center peak where the sun shines through several windows, covering us in its warmth.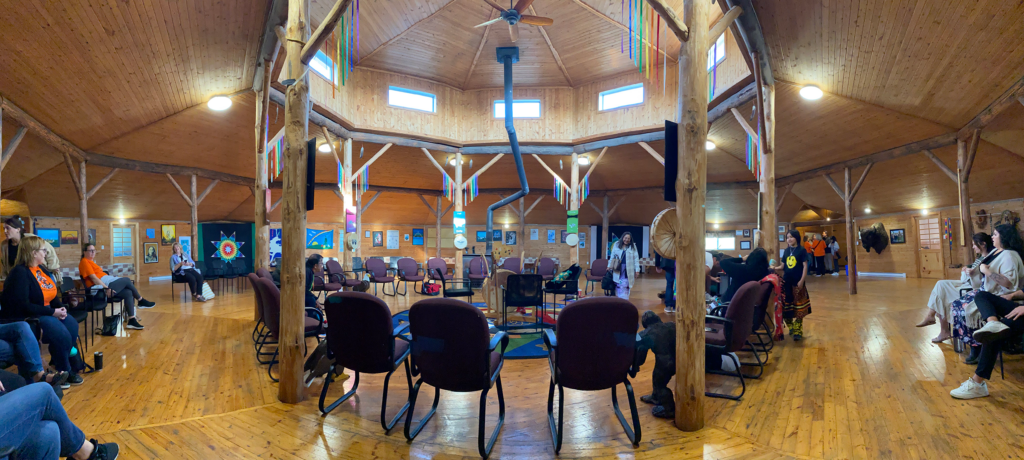 The Elders and Knowledge Keepers at Turtle Lodge graciously accept our offering of tobacco and begin a pipe ceremony to start the day in a good way. The sound of drummers thunders through the room, filling the space with their song and the steady roar of a heartbeat. We sit in a circle, surrounding the Elders in the center, where artwork reflects the seven sacred laws: respect, love, courage, honesty, wisdom, humility and truth.
The pipe ceremony is followed by a water ceremony, where Grandmothers honour the water that brings us all life. Then the Elders begin to speak, sharing great wisdom and experience – with a focus on child health, as the Foundation team supports children who need treatment and care at HSC Children's Hospital. We have offered our tobacco to learn about traditional medicine and ways of healing, so we can do our work with a better understanding of the kids and families we serve; around 60% of kids and families at HSC Children's come from Métis, Inuit and First Nations communities.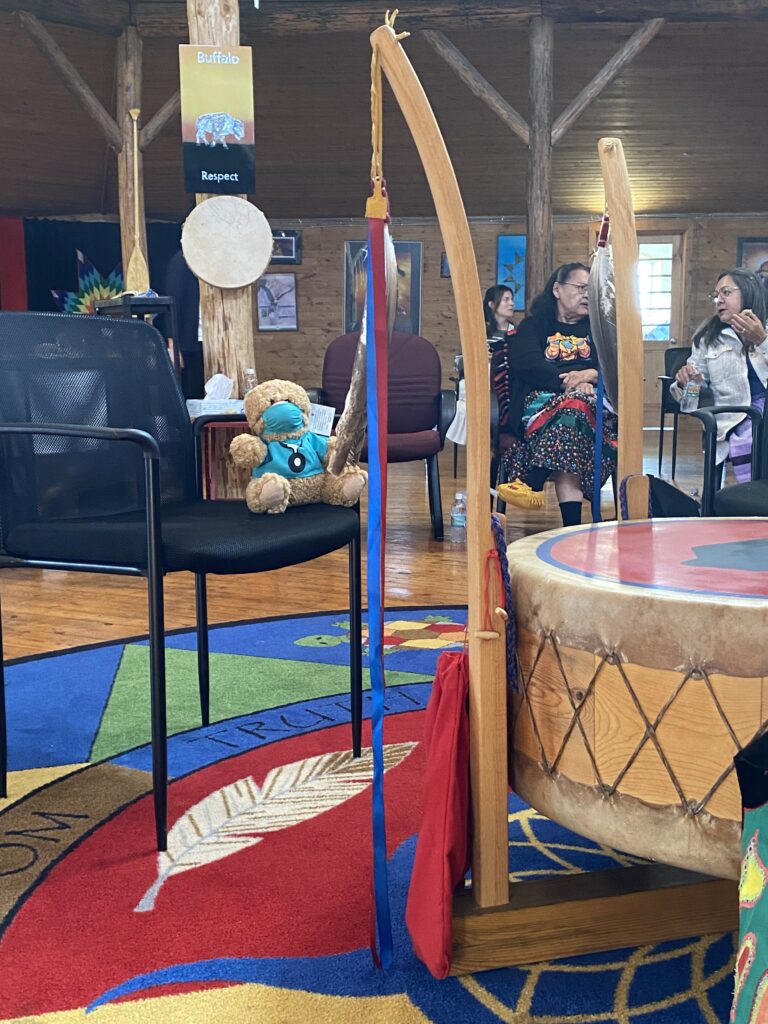 The Elders and Knowledge Keepers share deeply meaningful personal stories, speaking about their families and experiences in health care, reminding us to move with love, care, respect and understanding in all that we do.
We spend the day connecting as members of a shared community, listening to the vast wisdom of the leaders at Turtle Lodge, and fuel ourselves with a feast made locally. We hear the truth of these Elders and Knowledge Keepers' experiences, and the truth they carry of all their relations. Our circle falls into a deep reflection as we sit in silence to hold space for the Elders' teachings.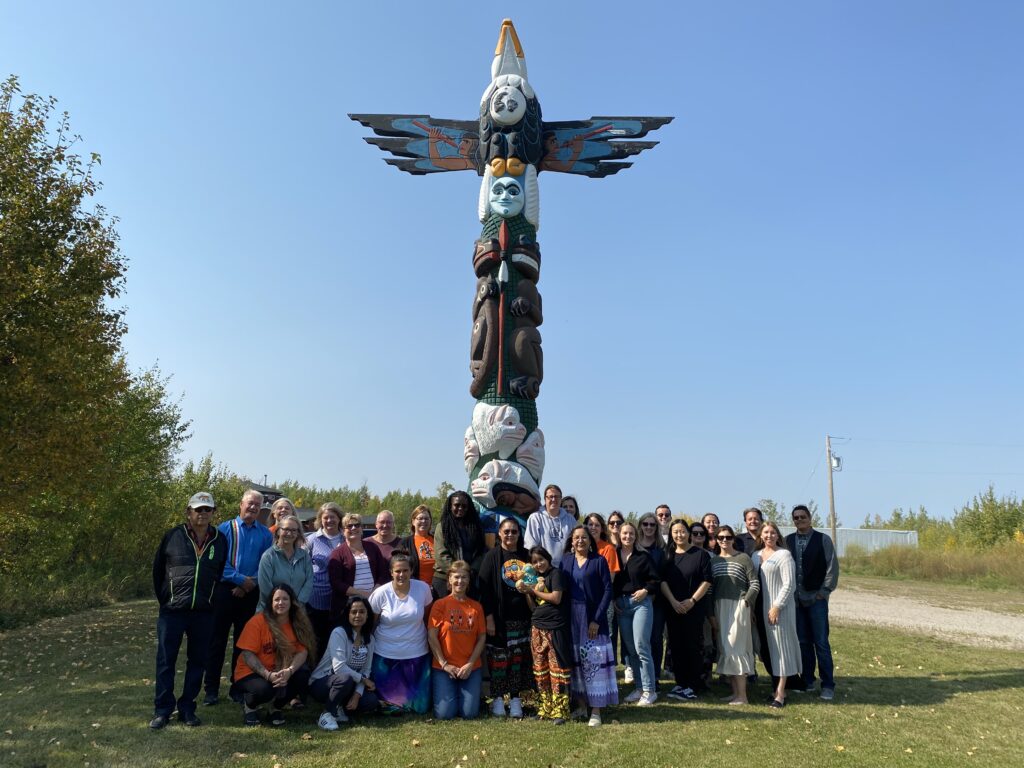 When we spill out of Turtle Lodge, following a day of deep connection and learning, the sun remains high in the sky, bringing warmth to every space its' light touches. And we all head our separate ways with a renewed commitment to reconciliation in supporting child health.
We call upon those who can effect change within the Canadian health-care system to recognize the value of Aboriginal healing practices and use them in the treatment of Aboriginal patients in collaboration with Aboriginal healers and Elders where requested by Aboriginal patients. (TRC Action item 22)
Reconciliation is truly a continuous journey and cannot be completed in any one single moment by any one single person. Our team is deeply grateful to have the honour of listening and learning from the experienced leaders at Turtle Lodge and we will continue to walk together on the path to Truth and Reconciliation.
Reflections from our team
"It was an honour as a member of the Indigenous Advisory Circle to spend the day with Elders, Knowledge Keepers, the Children's Hospital Foundation team and their partners to learn and grow with teachings at the Turtle Lodge. We thank everyone at the Turtle Lodge for this opportunity and take the time to remember the bridge building and legacy from late Elder Dave Courchene Jr. (II)."
Renata Meconse, Indigenous Advisory Circle to the Foundation
"Our visit to Turtle Lodge had a profound impact on my perspective and understanding of the Indigenous community. Listening to the Elders share their stories, wisdom, and experiences was truly eye-opening and emphasized the crucial significance of preserving Indigenous culture. Our time there left a lasting impression on me, deepening my appreciation for the Indigenous community's resilience and heritage, and highlighting our role in supporting education and reconciliation efforts."
Colleen Cousins, Manager, Finance, Children's Hospital Foundation of Manitoba
"Visiting the Turtle Lodge was a wonderful experience for our team to connect and learn on our journey of reconciliation. Listening to the stories shared by the Elders gave us insight on the importance of Indigenous medicine practices that should be honored in a healthcare setting."
Stephanie Matthews, Director, Marketing and Communications, Children's Hospital Research Institute of Manitoba
"What struck me most was how peaceful and serene the lodge is and how the Elders stressed the equality of all human beings. Listening to their stories and dreams was very inspiring and will keep me motivated in my own personal journey towards reconciliation."
Priyanka Singh, VP, Development, Children's Hospital Foundation of Manitoba