Children's Hospital Book Market runs September 15 – 16 at St. Vital Centre to raise vital funds for kids who need HSC Children's Hospital
Winnipeg, MB (September 12, 2023) – Manitobans can stock their shelves for fall and winter with great reads while helping kids in hospital at the upcoming Children's Hospital Book Market. The event on September 15 – 16 at St. Vital Centre features gently used books from many different genres at discount prices, with all proceeds going towards helping kids who need HSC Children's Hospital.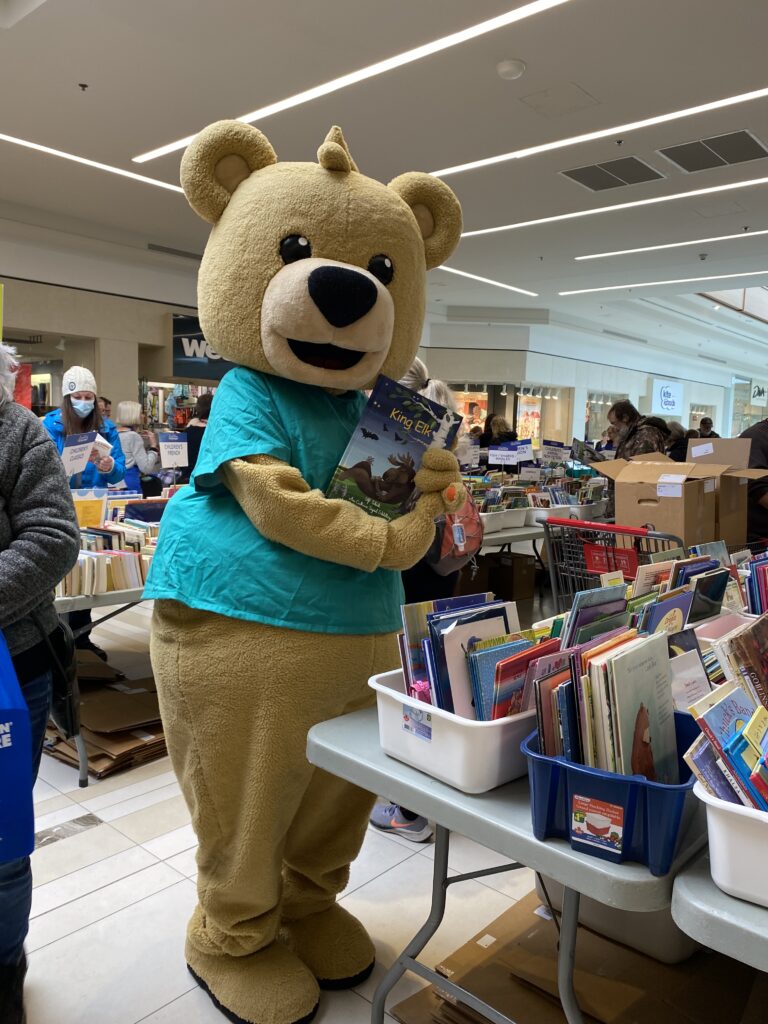 Fall Children's Hospital Book Market hours:
Friday, September 15 | 10:00 am – 9:00 pm
Saturday, September 16 | 10:00 am – 5:00 pm
The Book Market raises between $300,000 – $500,000 each year for specialized programming for kids in hospital. The two-day Spring 2023 sale was its most successful sale to date, raising an all-time one-day record of over $182,000 on the first day and finishing with over $250,000. New this year was also a summer pop-up sale which raised over $8,000.
Organizer, Carol Irving, loves seeing the variety of shoppers – from specialty collectors to students to families with young kids – filling carts full of books at such great deals. She hopes this September book market will beat the success she saw in the Spring.
"Kids' needs in hospital is certainly a worthy cause for anyone to support – especially coming into the holiday season ahead," says Irving.  "And we know Manitobans love to curl up with good books too, so now's your chance to get all the books you want at low prices, while helping the kids."
All funds raised at the Fall Book Market go towards the Better Futures campaign, Manitoba's largest-ever donor-driven campaign in support of child health, which focuses on three areas of strategic priority in pediatric health care: critical infrastructure and facilities, leading-edge pediatric research on childhood illnesses, and innovative programs to bring comfort to families in hospital – like the Child Life programming the Book Market directly supports.
"At times sick and injured children may need to spend days, weeks or months receiving medical treatment at our Children's Hospital, and the Child Life program is there to provide vital comfort to kids during those difficult days. We are so grateful to the Book Market for supporting these children by continuing to fundraise for this important and innovative programming," says Stefano Grande, Foundation President and CEO. "The Foundation thanks the amazing group of volunteers who dedicate their time to hosting Book Market and to sponsors, Dufresne, Amazon, and St. Vital Centre who ensure the sustainability of this important community fundraising initiative."
Child Life programming includes:
Children's Hospital TV (CHTV), the in-house TV station that provides free programming for all patients and broadcasts a live, daily show to engage and entertain kids in hospital
Music Therapy
The Library Program
The playroom, that has not only toys but a mini hospital environment where kids can learn about procedures and treatments they will experience in hospital
The Book Market was established in 1961 and is the longest-running volunteer-organized event in support of Children's Hospital. The Children's Hospital Foundation is grateful for the more than 300 volunteers who work year-round in preparation for Book Market events, collecting books at Dufresne Furniture Stores and Winnipeg Paramedic Fire Stations, sorting and pricing materials, packing and moving books, setting up at St. Vital Centre and managing the many genre tables to help buyers find their perfect read and managing purchases.
Book Market is also made possible thanks to generous sponsors including Dufresne Furniture Store and Amazon, as well at St. Vital Centre as the event venue.
Learn more about the Children's Hospital Book Market at goodbear.ca.
To help #GiveBetterFutures and be part of transforming child healthcare and research in Manitoba, visit goodbear.ca/BetterFutures.
#GiveBetterFutures with Children's Hospital Foundation of Manitoba
You can change a sick child's life through the current $75 million Better Futures campaign. History-making changes in child health will ensure sick kids get the care they need in places of comfort and healing, in environments that physically and technologically match the excellence provided by healthcare professionals today. They'll benefit from leading-edge research focused specifically on the unique needs of kids in our communities. Manitoba's largest-ever fundraising campaign for child health NEEDS YOU to help #GiveBetterFutures to sick and injured kids. Because your present can change their future.
Since 1971, with incredible donor support, the Children's Hospital Foundation of Manitoba has raised more than $165 million to help sick and injured children from Manitoba, Northwestern Ontario, and Nunavut. The Foundation is dedicated to ensuring that every child treated at HSC Children's Hospital has the best care experience possible and benefits from the leading-edge research at Children's Hospital Research Institute of Manitoba. Learn about your impact at goodbear.ca.