Video games for a good cause – a Manitoba player is leveling up to help kids in hospital heal.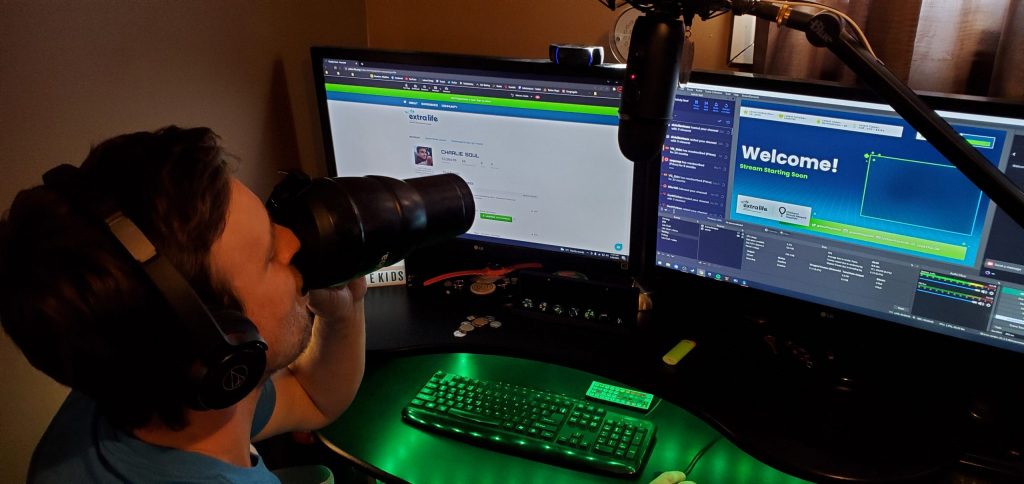 @SoulPlaysItAll, or Charlie Soul as he's known online, has been participating in 24-hour Extra Life gaming marathons for eight years, going on nine. He says joining in was an easy call, because he loves to game and has a personal connection to the cause.
When Charlie was baby, he suffered hot water burns. Once he hit his teenage years, he started growing quickly and the burned skin was stretched too far, so he needed surgery for a skin graft in three places.
In June of 1999 Charlie travelled from his hometown of Brandon to HSC Winnipeg Children's Hospital for the procedure and spent almost a month recovering. Charlie was supposed to only stay one week but his leg got infected, extending his stay again and again.
Since Charlie's family had to be in Brandon during the week, he didn't have much company and spent most of his time playing Star Fox on one of the hospital's Nintendo 64 systems. For kids in hospital, gaming systems can bring much needed comfort and distraction, something Charlie can relate to.
"That was my lifeline back then. It definitely meant the world. Thinking back, I don't know what else would I have done besides just lay there," says Charlie.
In the eight years he's been an Extra Lifer, Charlie has raised over $3000 USD for kids in hospital as a single player.
"It's always very humbling to think somebody wants to donate from watching me or hearing about my story," says Charlie. "If that helps other people want to give back or just raise awareness too, that goes a long way."
Since Extra Life started in 2008, the initiative has raised over $100 M USD for children's hospitals in Canada and the U.S. Gamers work all year to raise funds, but the main event is Extra Life Game Day, where they spend 24 hours in a single weekend playing and streaming games of their choice. While it can get tiring, Charlie say it's not hard to find motivation to keep going.
"The kids in hospital can't take a break," says Charlie. "I think back when I was in the hospital, I didn't get a chance to take a break or step back from it. So, I use that to push through."
Charlie is deeply grateful for every single dollar donated towards his Extra Life fundraising page.
"I always make sure to reach out personally and say thank you, their donations mean a lot, not just to me but to the kids down the line," says Charlie. "They're affected in positive ways by it, even ways we as the donors can't even imagine."
To sign up to become an Extra Life player, or support a current player or team click here.