* Names of all family members in this article have been changed to maintain the confidentiality of the child.
Mary, a vibrant 10-year-old with bright eyes that always seem to be smiling, is a beacon of creativity, kindness, and artistry. She's a dancer and musician, expressing herself through the beauty of movement and sound. Mary's world is painted in shades of magenta, her favorite color symbolizing the uniqueness she embraces. But already at age 10, Mary has some big concerns about her life ahead as a transgender female.
Mary thinks she was about seven years old when she began to articulate feelings of longing to be a "real girl." Femininity – dresses, rainbows, and girl roles in games and on screen in Disney movies – felt like the only areas that truly aligned with her identity.
In Mary's journey of self-discovery, her family stands as pillars of love and support. "They love me, and I love them, and they support me," she beams. Navigating the transition, Mary, with her family's unwavering support, discarded her dead name. "We chose together as a family," she shares, reflecting the collaborative effort of finding her new name that fit who she really is.
Yet, echoes of her old name persist, an unwelcome reminder in doctor's offices and dental chairs that health systems are still not up to speed on the needs of transgender kids.
Dr. Bhatla, a pediatric resident at HSC Children's Hospital, committed herself to understanding the experiences of transitioning youth in Manitoba during her resident research project. The findings shed light on similar challenges faced by transitioning youth.
Dr. Bhatla emphasizes the need for continued improvement in the care and experiences of transitioning youth. A key finding from the research underscores the paramount importance of having safe providers that can be supportive of the unique health care needs of transgender kids.
The study identifies several factors contributing to the need for safe providers. One significant issue is the perceived lack of support once youth start seeking help to transition. They often find themselves in a "black hole", receiving inadequate information from their primary healthcare providers, struggling to locate pertinent online resources, and facing daunting waitlists for providers versed in trans healthcare—waitlists that can extend beyond two years.
Moreover, the study reveals a broader challenge of what some call "structural transphobia" within healthcare systems. These systems are currently ill-equipped to support youth who have changed their names or pronouns. The consequence is that during medical care, these individuals are frequently misgendered and addressed by their deadname, leading to negative psychological impacts, especially for children. Mental health concerns such as self-harming behavior, suicidal ideation, and general dysphoria often afflict youth waiting to transition.
Dr. Bhatla suggests strategies to support youth awaiting healthcare, including social transitioning. This involves changes in dressing, hairstyles, and the use of special garments like binders to alleviate the discomfort of being in the wrong body. Speech language pathologists can also assist during this time with vocal shifts aligning with gender identity, and a change in name and pronouns may be integral to the social transition process.
The research underscores the importance of allyship in supporting transitioning individuals during their social transition. Respecting each phase of the transition, even if the ally doesn't fully understand, is crucial. Using preferred names and pronouns becomes a powerful means of supporting mental health and fostering an environment of inclusivity and understanding. Dr. Bhatla not only highlights the challenges faced by transitioning youth but she also advocates for a healthcare system that is not just supportive but actively seeks to empower and uplift every individual, no matter their identity.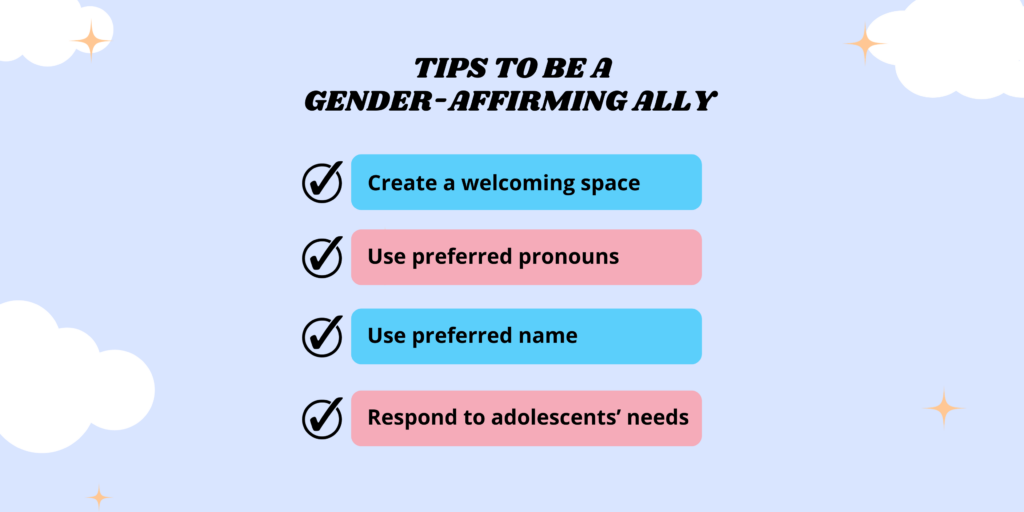 Despite the challenges, Mary envisions a future aligned with her true self. She dreams of a world where her body reflects her identity, eagerly anticipating the day her doctors allow her to take hormones that will aid her transition. Even at age 10, the prospect of a future boyfriend worries her, wondering if or at what phase of dating she'll need to disclose her journey. And she worries, a little, about never having a baby – but says her plans to be a famous actress won't allow time to be a mom anyway.
Through it all, Mary finds solace in her family, her mom and dad serving as heroes. The pink walls of her room, adorned with fairies, creates a sanctuary where Mary can be herself.
For Mary's mom and dad, the journey started earlier with subtle signs they were seeing as early as age five. While it wasn't something they were aware of when they had their child, they are focused on her being happy and healthy. And they see her at her healthiest when Mary's authenticity shines through.
They are also thankful that Children's Hospital plays a crucial role in Mary's support. From pediatricians to the Gender Diversity and Affirming Action for Youth (GDAAY) program, their support has been invaluable. Guiding youth in Manitoba through their gender affirming journey and supporting those experiencing stress caused from a mismatch between gender identity and sex assigned at birth are the foundational goals of the GDDAAY. The program was created from the recognition of an urgent need to create safe and appropriate care options for transgender youth in Manitoba. Care teams of specialists from pediatric endocrinology adolescent medicine, psychiatry, psychology and social work come together to deliver compassionate and gender-affirming medical care to transgender youth and their families. Since 2010, GDDAAY has provided services to more than 450 patients in Manitoba.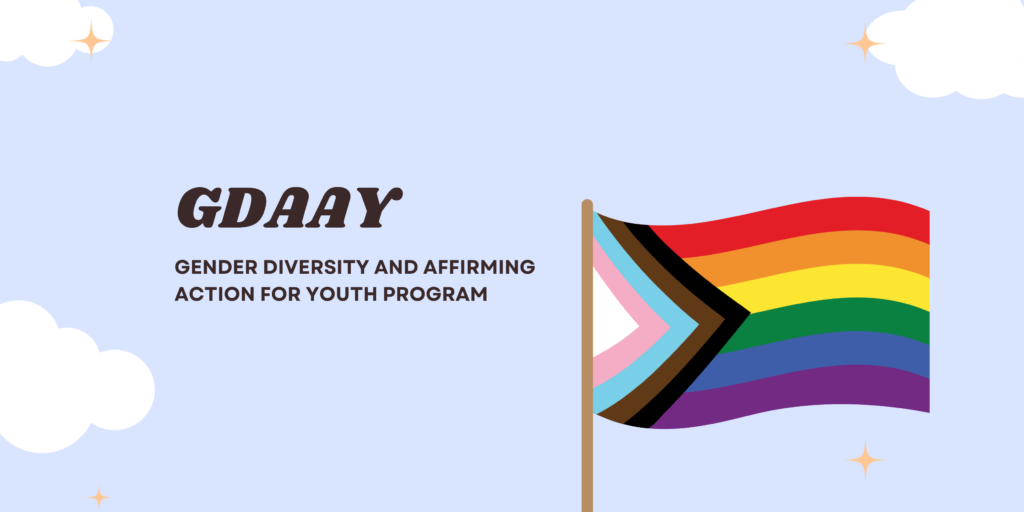 Mary's mom emphasizes the importance of understanding and patience for parents facing similar situations. "Be patient, be open-minded," she suggests, emphasizing the need for a robust support system for the child and the family learning how to move through a transition. She says her whole family is grateful to the friends who have stepped up to support them as they learn the transition process, and to new friends they have developed along the way. "I am so thankful to have met another family moving through this so we as mom's can share our learnings on how to keep supporting our children."
Mary, the dancer, singer, and dreamer, moves forward with grace, supported by the love and care of her family and the medical expertise at Children's Hospital. Her story is not just one of personal triumph but a testament to the power of understanding, compassion, and unwavering support. Mary's journey shows that the community around a child can play an important role in paving the way for their improved quality of life through a life lived authentically.
For added clarity on supports available at HSC Children's Hospital please note:
No gender-related surgery is done at HSC Children's Hospital.
No medical intervention that impacts future fertility is done at age 10.
GDAAY provides mental health supports for gender dysphoria and other support resources for social transition. The goal of the GDAAY clinic is that youth and families have a safe place with medical experts to gain further information and supports.
Active listening with an attitude of curiosity to keep learning about the needs of youth goes a long way to supporting their ongoing mental health. If you are a parent or healthcare provider looking for education and tools to improve your awareness of transgender youth visit Shared Health.