Gillian and Eoghan O'Neil knew something was wrong with their two-year-old son, James, when he started developing purple dots on his skin and just seemed "off" – but what was causing this was completely unexpected.
"We were shocked, scared, and devastated. Every parent wants their child to be happy and healthy and to hear the word cancer when talking about our son was terrifying, it was heartbreaking," says Gillian.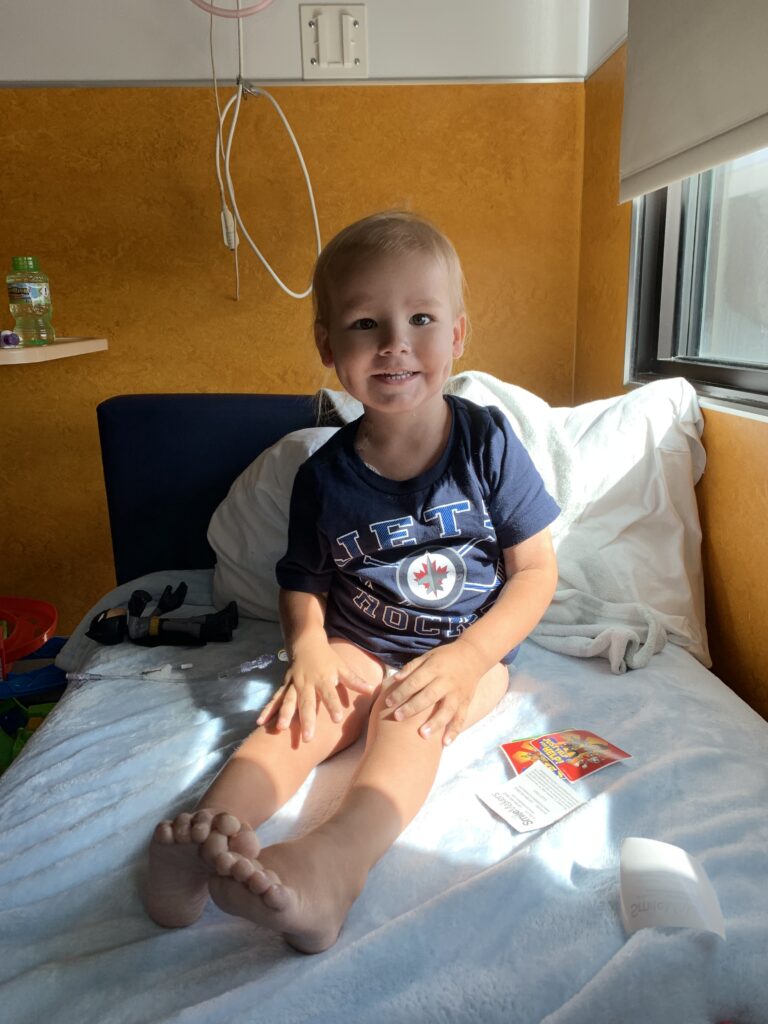 On July 27 of 2020 James was diagnosed with acute lymphocytic leukemia, a cancer in the blood and bone marrow. Earlier that day James and his family had been boating, playing and enjoying the nice weather but he started to feel unwell and was staying close to mom. So, Gillian and Eoghan took James to Children's Emergency at HSC Winnipeg where he was admitted, diagnosed, and given blood and platelet transfusions right away.
James then began chemotherapy but just two weeks into treatment he developed a serious inflammation of the intestines called typhlitis. James wasn't able to eat or drink anything and was in so much pain he couldn't get out of bed or sit up on his own. After six weeks in hospital, James recovered enough to continue treatment.
Throughout James' numerous hospital stays and visits to the oncology unit, the Child Life program has played an important role in promoting his emotional and developmental needs. Gillian and Eoghan say Child Life provides positivity, support, and a safe space in which kids can just be kids.
"They seem to know what James needs and when he needs it. When he was feeling sick, they brought in soothing lights, when he's having his port accessed for chemotherapy, they bring toys to distract him, when he's feeling good, they play with him," says Gillian.
James especially loves music therapy. Gillian and Eoghan remember the first time they saw James smile after the bout with typhlitis.
"The music therapist came to sing with him and gave him a drum and shaker to play. We weren't sure how he would react as he was just starting to get better but decided to try. James loved it. It was the first time he laughed, smiled, and even sat up in weeks. It was such an emotional, beautiful experience," say Gillian and Eoghan.
James also collects bravery beads to mark milestones in his treatment. Children get a special cord for their beads, and string one on for each significant moment like going for chemotherapy, getting blood drawn, or having surgery.
"I love the bravery bead program because you can visually see everything that he's been through, it's mind blowing," says Gillian.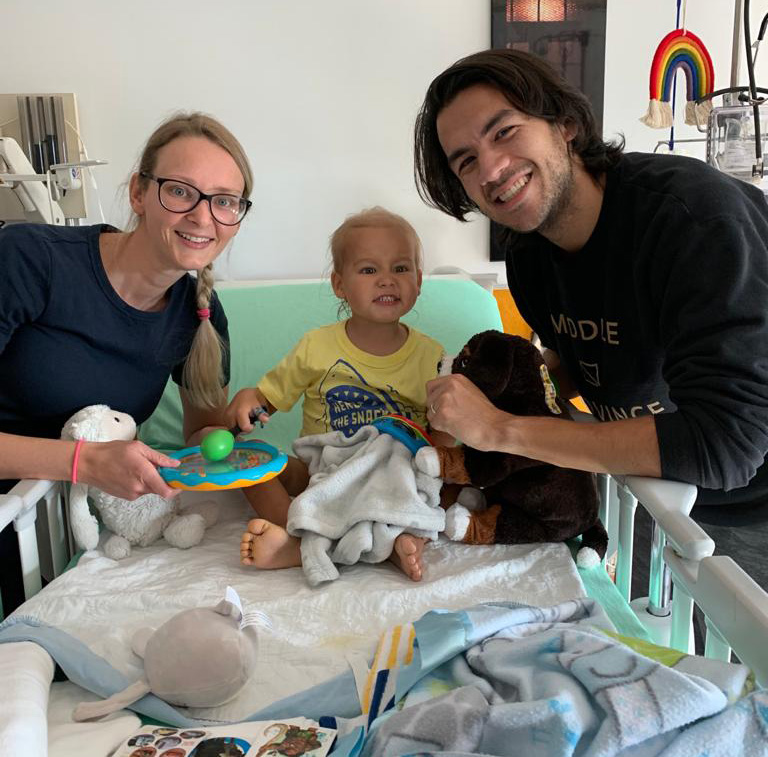 James has done very well with chemotherapy since recovering from typhlitis, and in Spring 2021 moved forward from more intense chemotherapy to maintenance chemotherapy.
While chemo is hard on his body, this happy, bubbly, cuddle-loving toddler is always excited to see the staff and go to the playroom when he's in for treatment. He loves playing with his superheroes and often pretends to be his favourite characters.
"What he doesn't realize is that he himself is a real-life superhero: the strongest, most resilient person we know. He's been through more at the age of two than lots of people will in a lifetime and still remains the happy, playful, caring boy he has always been," says Gillian.
Gillian and Eoghan are very grateful that everyone at HSC Children's have helped them, and most importantly James, achieve the best experience possible during a very difficult time.
"You never know when your child or someone you love is going to get sick and need to come to the hospital, but when they do, you hope that they can get the best care possible. The exceptional care we've had is due to both the incredible people giving him this care and also a result of funding and donations that have gone towards equipment, Child Life programs, and other initiatives that enhance the experience for every sick child and their family."