Chantelle Manicom knows the heartache of walking out of the HSC Winnipeg Children's Hospital without her baby in her arms.
In 2017, Chantelle was just 24 weeks pregnant when she began to not feel well. She was diagnosed with severe preeclampsia, resulting in the early delivery of her son Edward. He would only live one day due to being so premature.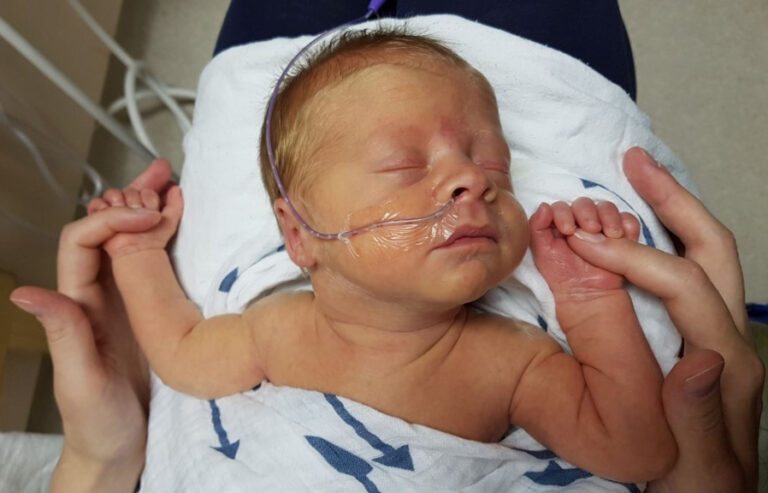 "We knew that his chances of surviving were not great and although that was incredibly difficult to hear, we are so glad that the NICU staff was honest and still did everything possible to care for him and to keep him as comfortable as possible," says Chantelle. "On April 1, when they knew he would not live, I was still very unwell and I remember being so afraid and hesitant to go visit him in the NICU. A few nurses, as well as my family, very gently encouraged me to go. I am so thankful that I did go to hold him and to be with my husband when Edward passed away. I am forever thankful to have some memories – although too few – with him."
Chantelle was offered counselling and referred to mental health professionals to help her handle the anxiety that she faced after her loss.
"I am so glad that the staff looked beyond my physical health and saw that there was a need for emotional/mental health supports," says Chantelle. "The support that followed this very unfortunate experience has led to an improvement in my mental health and my quality of life… so grateful for that!"
Fortunately, two years later, Chantelle would deliver her second son, Hugh, with a happier ending.
"During my second pregnancy I was always slightly worried that the same thing would happen. I was excited to be pregnant, but equally terrified that I might lose the pregnancy," says Chantelle. "Physically I felt pretty good during my pregnancy with Hugh. Emotionally, I was a bit up and down especially from the 22-24 weeks pregnant window."
Born a month early to prevent complications from arising again, Hugh was in the NICU for just over a month. This was a valuable experience though as that month gave Chantelle the chance to watch and learn first-hand how to care for a baby from the team of skilled nurses.
"The nurses involved me and my husband in all of the routine jobs: diaper changing, bathing, feeding, burping, etc. I sometimes wonder how people take care of their baby without having nurses model it for them for a month," laughs Chantelle. "By the time Hugh left the NICU, I felt quite competent in my ability to care for a newborn!"
Hugh is now an active, fun-loving toddler who loves to sing, play with dinosaurs and cars, and be outside.
Chantelle is quick to acknowledge the support and encouragement she and both of her sons received from the hospital staff.
"I have a healthy and happy two-year-old thanks to the care that we received through both HSC Women's Hospital and the NICU," says Chantelle.
"I'm so grateful to have HSC Children's Hospital here in Winnipeg. Such committed, professional and caring staff. You are real-life heroes."
To the Children's Hospital Foundation of Manitoba, which is celebrating its 50th anniversary, Chantelle is thankful for its role in helping so many children like Hugh.
"Thank you for the difference you've made for families who have had children in your care."