Two-year-old Harvey proudly smiles as his parents talk about his many milestones, including his favourite – potty training.
His parents, Mike and Alexa Knox, are all smiles too…because their little boy is alive today to have this latest milestone – thanks to fast, supportive care they received at HSC Winnipeg Children's Hospital Emergency Department.
"The emergency room triage nurse checked him and then hurried us in right away. His oxygen levels were very low," says Mike, "I remember walking quickly into the department and passing the sign for the Resuscitation Room."
Prior to that day, Mike and Alexa had noticed mild wheezing and wondered if their son could have asthma. But on Boxing Day 2021, Harvey started wheezing more consistently. There had also been a recent community spike in cold and flu-like illnesses, so they took him to a walk-in clinic close to home to find out more. There, a doctor determined that it was asthma and prescribed an inhaler to help. Things improved briefly but then Harvey's health took a downward turn.
"He just got worse overnight; he couldn't sleep. His breathing was rough, then the next day he was lethargic and not eating well," says Alexa.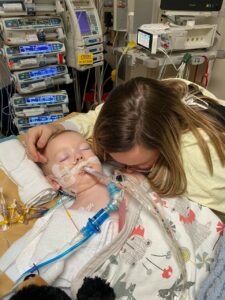 She dropped Mike and Harvey off at HSC Children's but couldn't go in as she needed to stay with their 4-month-old son Wesley. Over the span of the next few hours, Mike sent her text message updates while he watched emergency doctors and nurses work to stabilize their son.
"It was really scary. But also, a relief to see the team of doctors and nurses around him giving him care."
Using a nebulizer and IV medications the emergency team got Harvey stabilized enough to be admitted to a ward. But Harvey's asthma combined with a common cold had put his young lungs beyond what he could handle. He was transferred to the Pediatric Intensive Care Unit (PICU) where he was intubated and had chest tubes placed to drain an accumulation of air around his lungs.
"I could see him struggling for air. He had bruising on his chest from his muscles working so hard to breathe. And there was a larger lump on his neck that doctors explained was from the accumulating oxygen into his tissues," says Mike.
Mike says the five hours waiting through x-rays, intubation and chest tubes was the hardest part of the ordeal as it was the only time he'd left his son's side. But he also hoped that once the doctors got his son on the ventilator things would get better.
Mike sent his wife text updates and the two had some tear-filled phone calls. "I was relieved when Harvey was intubated because then he didn't have to work so hard to breathe," says Alexa.
In total, Harvey spent 13 days in hospital. It's 13 days Mike and Alexa will never forget.
"Having to be at Children's Hospital was stressful, but the care was phenomenal," says Mike. "Nurses and doctors kept us informed. They spoke to Harvey and told him what they were doing, even when he was unconscious. When he was on the recovery ward there was a clown and physiotherapists would come in with toys that he loved to play with but would also help recover his motor skills."
Now back at home, Harvey is in good spirits, loves playing with his toy cars and being a big brother. His parents are captivated by and thankful for every milestone he achieves.
For Mike, the life-changing event has helped him better understand his role as a RE/MAX Miracle Home agent. Some RE/MAX agents choose to participate in the Children's Miracle Network Miracle Home Program which means they dedicate home sales as Miracle Homes and donate a portion of those sales to the CMN member hospital in their area.  In Manitoba, that hospital is HSC Children's, and those funds directly support ongoing needs, like purchasing small intubation tools used on toddlers, physiotherapy toys and critical spaces like the resuscitation room in the emergency department.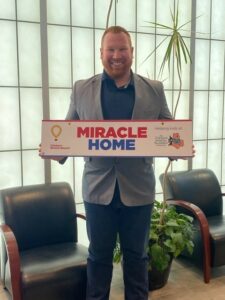 Mike hopes other people hearing his son's story will better understand the need for donations too.
"You might think of your donation as just numbers on paper, but it is so much more – it directly saves the lives of kids and helps families, just like ours."
Supporting kids living with asthma

There are over 3.8 million Canadians with asthma, and every year an estimated 250 Canadians lose their lives to asthma. Asthma affects about one in 10 children and is the most common reason why children miss school or end up in hospital. Children's Hospital Research Institute of Manitoba (CHRIM) has a Biology of Breathing (B.o.B.) research team and works closely with the Children's Allergy and Asthma Education Centre (CAAEC), to uncover reasons behind childhood asthma. Both B.o.B. and CAAEC research programs are funded directly by donations through Children's Hospital Foundation of Manitoba. To donate to childhood disease research in Manitoba, give at goodbear.ca/chrim
Diagnosing asthma can be difficult in children under age five because children cough or wheeze for a variety of other reasons. Pediatric asthma symptoms may include coughing that is constant or comes and goes, wheezing/noisy breathing, coughing at night, chest tightness, shortness of breath, tiredness. If your child has symptoms, please see a pediatrician.