At home in St. Jean Baptiste, Manitoba, Michelle Siemens thought something may have been wrong when she noticed six-week-old Greysen's breathing was different.
"He was having a nap and I was kind of watching him and thinking – does his breathing always sound like this?" says Michelle.
"I was second guessing myself. I wasn't sure what was going on. But then I unzipped his onesie and I could see his rib cage collapsing with every single breath."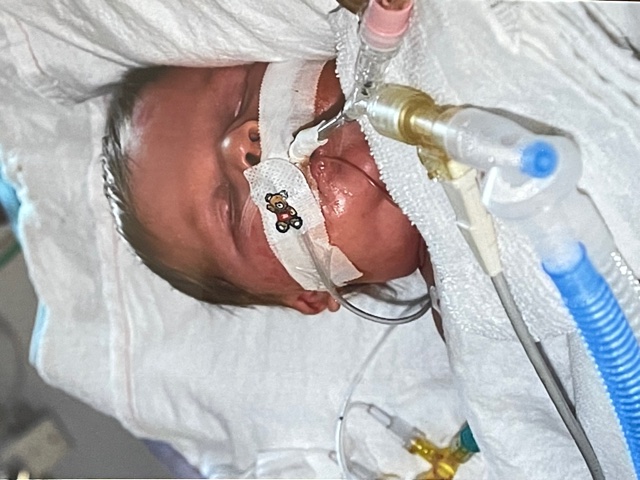 At Morris General Hospital, Michelle was told Greysen would have to be taken by ambulance to Winnipeg. Thinking perhaps he just had a bad cold, Michelle did not yet understand the severity of her son's illness.
"The doctor got into the ambulance with us, which now I know only happens if the child may not make it," says Michelle. "The doctor said 'Just hold him.'"
Michelle recalls questioning the doctor, thinking Greysen should be in a car seat or strapped in safely, but the doctor kept insisting that she hold her son for the entire ride to Winnipeg. The doctor and paramedic repeatedly asked if he was still breathing.
"They didn't think he would make it through the drive to Winnipeg," says Michelle.
Upon arriving at HSC Winnipeg Children's Hospital, while the Morris doctor talked to Winnipeg staff about the newborn's condition, a nurse sprang into action to resuscitate the baby still in Michelle's arms.
"He stopped breathing and was resuscitated twice in the children's emergency room. And once he was stable, they told me it wasn't good."
Doctors initially diagnosed Greysen with pneumonia and bronchiolitis, and later also respiratory syncytial virus (RSV). The newborn spent three weeks in the hospital battling the infections. On life support in the Pediatric Intensive Care Unit (PICU), Greysen had to be resuscitated twice more; each time, Michelle and her husband, Tony were told to say goodbye to their son.
"The whole time was such a whirlwind and we didn't know what was going on and he was just holding on so hard. In a way, we were expecting it when they said, 'We don't think he'll make it through this,'" says Michelle, recalling the shock and helplessness that she felt.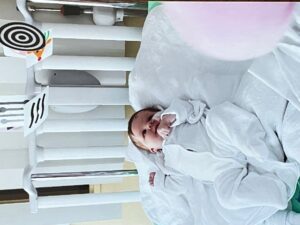 The parents and hospital staff suspected Greysen was dealing with something beyond the infections. Once he was more stable, they began to run tests to find out what exactly was going on. Genetic tests showed that Greysen is missing parts of chromosomes seven and eight. He is only one of two known individuals in the entire world who is missing this particular part of the eighth chromosome, which can cause hearing loss, developmental delays and distinctive differences. For Greysen, his pinkies and toes are malformed, and his nails grow into his skin instead of out. He also has only one functioning kidney and profound hearing loss. On top of that, he had holes in his heart as a baby, which have since healed on their own.
Over the past 10 years, the family has become frequent visitors to the hospital. When Greysen was younger he would need to be at the hospital two to three times a week. Any illness, even something like a cold, would "take him out," says Michelle. His lungs are now scarred from being on a ventilator. "If we heard him sniffle, we'd be watching him, waiting to take him into the hospital," says Michelle, who also has an older daughter, Kaylee.
But thanks to the teams at HSC Children's, today Greysen is doing phenomenally well. His hearing loss was rectified with bone-anchored hearing aids. He now has specialist appointments at the hospital once or twice a month. Like most 10-year-olds, he enjoys playing with his friends, hockey, soccer, Pokemon and video games.
"I'm not sure what we would do without (HSC Winnipeg Children's Hospital). I guess we'd probably be sent to Edmonton or Calgary. We would have had to move. We couldn't live in Manitoba," says Michelle due to the Greysen's diverse and complex medical needs.
"I think that a lot of people don't realize how much we have here; how many different specialists we have and what they can all do and how amazing and quick they are."
"We're just so thankful they were there, especially at first. The first moment of experience we had with them was very, very scary and we didn't know if we'd be carrying our son out of the hospital," says Michelle, who credits the staff for being super informative and explaining things in ways she and Tony were able to understand.
Michelle is now able to speak calmly of this time in her son's life, and even recalls some situations fondly, particularly those that speak to the incredible care and treatment from the hospital staff, like nurses reminding her to pump breast milk. "It was like having a bunch of moms around." Or when staff had to shave Greysen's head, but saved his hair for Michelle as a keepsake.
It's the staff, from doctors and nurses to health-care aides, that Michelle is most grateful for, then and now, and the impact they've had on her son and herself.