It can be terrifying when your child needs urgent medical attention but getting help can lead to hope.
For seven-year-old Emma and her family, a visit to HSC Children's Emergency Department (ED) led to an important diagnosis and life-changing surgery.
"You don't expect it, it was like being blindsided. She was our first baby and you want the best for your children."
In 2015, when Emma was six months old, her parents, Sarah and Sean, could tell something was not quite right. Her lips began twitching and she started making strange faces as if she were in pain, so they took her to HSC Children's Emergency.
"Something in her eyes didn't look right," says Sarah.
It was in emergency that Dr. Samantha Marin ran extensive tests and discovered Emma was having seizures. Emma was diagnosed with infantile spasms, also known as West syndrome, a rare form of epilepsy.
This diagnosis meant doctors could move on to a treatment plan for Emma. She was given at least five different medications, and her family tried other measures like the ketogenic diet and cannabis oil, but nothing would stop her seizures. In 2017 they moved on to see if surgery could be the answer.
Dr. Marin ordered testing to learn even more about Emma's seizures and Emma became the first child admitted to the Pediatric Epilepsy Monitoring Unit (EMU) at HSC Children's. Kids like Emma spend around two to five days in the EMU so their brain waves can be recorded using Electroencephalography (EEG). The idea is that if doctors can find where the seizures are coming from, surgeons can remove or disconnect those parts of the brain.
"The EMU is extremely important. The EMU is like my eyes. I need my eyes to look into the details of epilepsy and seizures," says neurologist, Dr. Helen Xu, who has also helped treat Emma throughout her journey.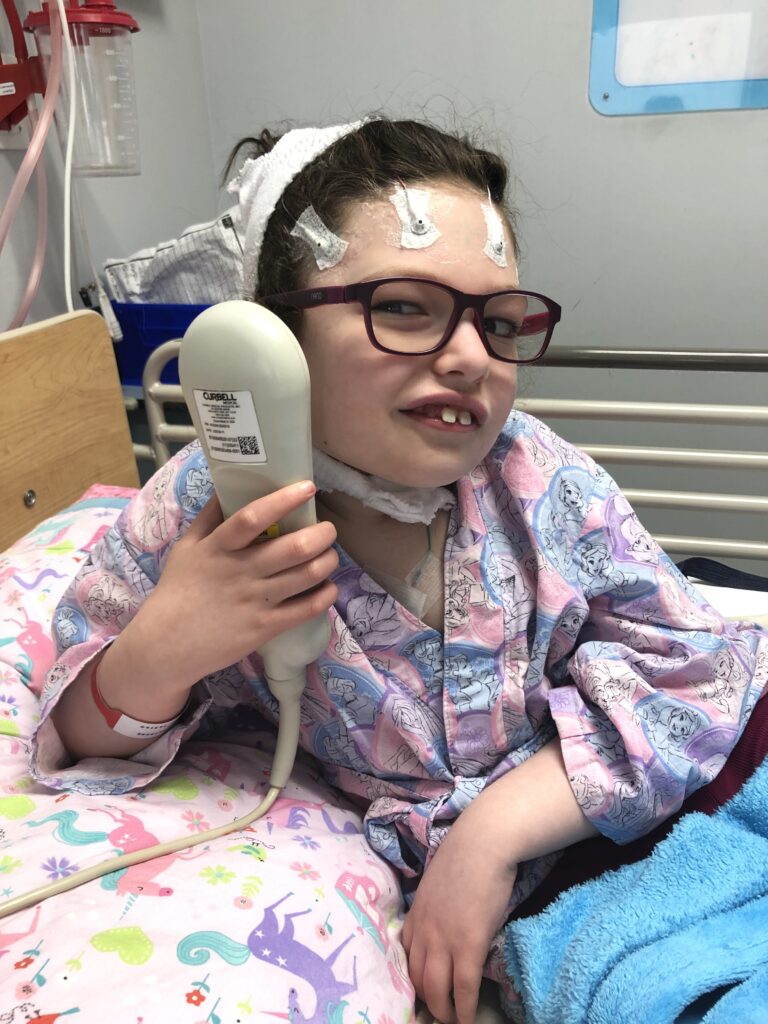 The EMU helped confirm Emma would benefit from a disconnective hemispherectomy, where a portion of the brain where seizures are starting is removed.
"It's scary to hear that they'll remove a section of brain, or even just brain surgery itself is scary when someone's saying it about your two-year-old," says Sarah.
While it may have been scary, the surgery was a success and Emma went a whole year without seizures. Then a new kind of seizure popped up for Emma. After more tests, in 2020 when she was four years old, she had an anatomical hemispherectomy where the entire half of the brain affected by seizures is removed.
Now Emma has gone more than two years without seizures and her parents are thrilled.
"She's doing amazing, it's so nice not to see her having seizures. You can tell she's learning and comprehending things a lot more. I'm so happy," says Sarah.
Emma does face side effects including visual loss in both eyes and a loss of mobility in her left side, but she is a resilient girl, adapting well. She loves going to school and is learning to communicate using sign language and voice pads. Emma also enjoys riding her bike and quality time with her family.
"Eating, drinking, walking, being more independent, verbalizing – we have lots of goals for her, but the main thing is that she's so happy," says Sarah. "She's always been happy but now I feel like she's living her best life."
For many children like Emma, emergency is the first stop on their health journey. Right now, Children's Hospital Emergency needs donor support to upgrade the space for patient experience and safety.
Sarah is very thankful supporters continue to give, because it means kids like Emma get the care they need close to home.
"Thank you for your generosity. Without donors, kids in Manitoba don't get the opportunity to have the special care that they need. We're just thankful."