The holidays are supposed to be fun and festive, but for 7-year-old Cain and his family, the Christmas of 2021 was full of fear as Cain began a battle with cancer.
"We were scared about what it meant for Cain, for our family," says Danica, Cain's mom.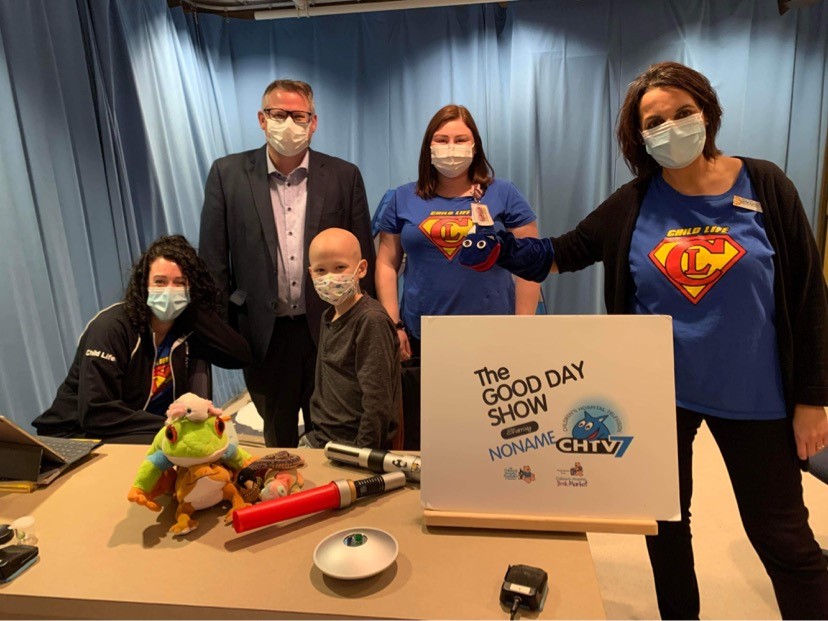 Over the holidays in 2021, Cain's family noticed he was limping, and his shin was swollen. Cain's parents, Danica and Glen, took him to the hospital closest to their home in Minnedosa, Manitoba on New Year's Eve. After an x-ray, doctors immediately referred Cain to HSC Children's Hospital.
On New Year's Day, 2022, the family drove into Winnipeg and tests at HSC Children's revealed Cain likely had osteosarcoma, a form of bone cancer, on his right tibia bone. One month later, a biopsy confirmed the diagnosis. Cain needed intensive chemotherapy for 29 weeks and surgeries to remove the tumour and replace Cain's tibia bone with a donor bone.
This treatment meant Cain spent countless days on CK5, the cancer treatment ward at HSC Children's, as most of his chemotherapy needed to be done while staying there and his surgeries required recovery time. While this was incredibly hard on his body, the Child Life team at HSC Children's helped ensure Cain had a chance to enjoy just being a kid.
Child Life specialists are experts in development and helping children cope with life in hospital. Child Life programming includes music therapy, a library program, a playroom with toys and games, and – a program close to Cain's heart – Children's Hospital Television (CHTV).
CHTV broadcasts age-appropriate content, without any commercials, to all kids' rooms at HSC Children's. CHTV also includes an interactive live show called The Good Day Show, every weekday at 1:00 pm, hosted by Child Life specialists and Noname the sock puppet.
During his many stays at HSC Children's, Cain was invited to appear on The Good Day Show and even created his own characters to join Noname, like Cornie the snake, Stripe the bearded dragon, and Sally the Axolotl.
Cain's mom says appearing on CHTV gave Cain something to look forward to.
"This was everything to Cain and it brought joy into his stays at the hospital," says Danica. "It was also a wonderful distraction, when he was on the show it was like he was himself again, playing and using his imagination to take a break from treatment and the pain he was often in. It's impossible to describe the comfort it brought me to see my son so happy during such difficult times."
In October of 2022 Cain finished his final round of chemo and is officially in remission. Cain, now nine, continues to recover from surgery on his leg and will move with a walker until he can put all his weight on his leg. Danica says he is thriving making his own movies, creating art and learning new activities like sledge hockey.
Cain will continue follow-up appointments to monitor his condition and his family is happy to have him home.