As Aysen Abey skates around the ice during his hockey game, it's hard to believe he wasn't able to walk or talk until he was three and a half years old, or that he almost lost his foot less than a year ago.
The seven-year-old has spent more time at the Children's Hospital than the hockey rink.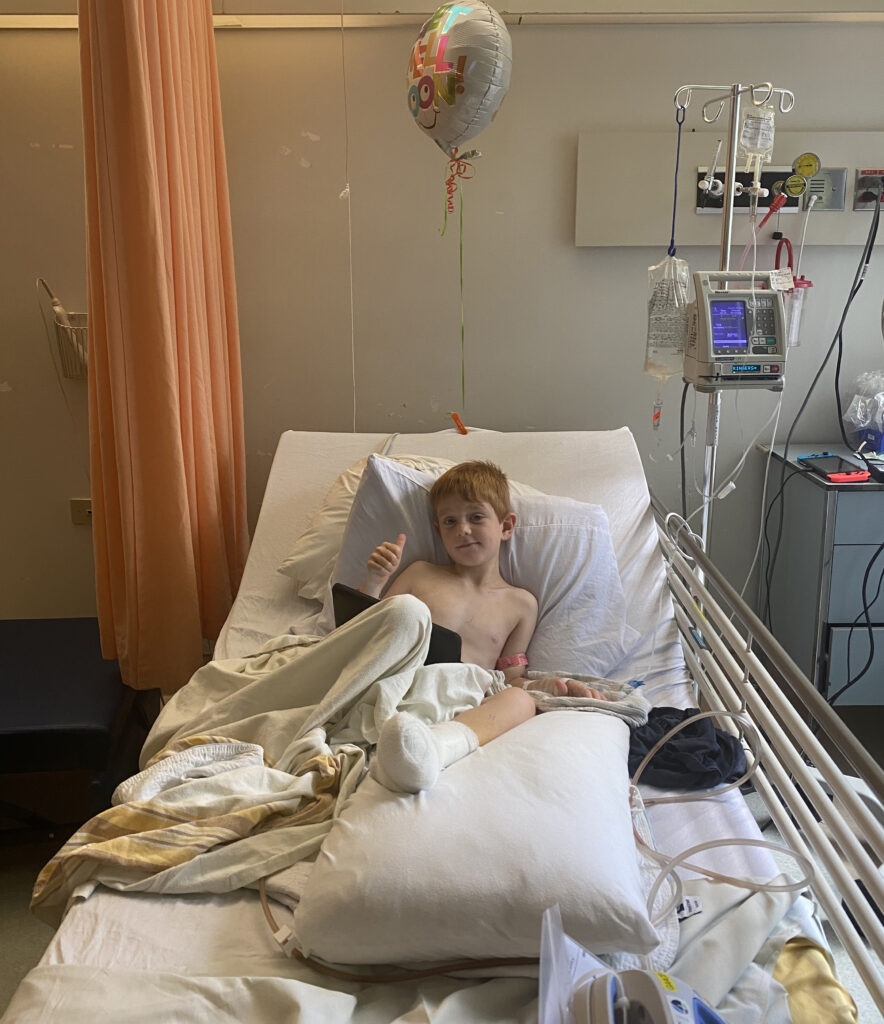 At just 11 months old, Aysen was diagnosed with neuroblastoma and, as a result of the cancer, he also developed opsoclonus-myoclonus-ataxia syndrome (OMS), a rare neurological disorder that develops when the tumour makes the body's immune system attack the nervous system. OMS symptoms include unsteady gait, muscle spasms, loss of balance and irregular, rapid eye movement.
It was the OMS symptoms that alerted Aysen's parents, Candace and Atlee Abey, that something was wrong, and a full-body MRI discovered a tumour in his abdomen. Before his first birthday, the boy had surgery to remove it and began weekly cancer treatments.
The family made the weekly two-hour trek from their home in Douglas, Manitoba to the HSC Children's Hospital and after more than a year of treatment and the accompanying physical, mental and emotional strains, Aysen was declared cancer free.
But as a six-year-old, Aysen would be back at the hospital when a lawn mower ran over his foot, almost resulting in amputation. Thankfully, after multiple surgeries, Aysen would recover and go on to play hockey later that year.
"I have never felt so cared for, understood and respected more then the times we have been admitted," says Candace. "Children's Hospital staff are the most amazing, big-hearted people and we will forever be thankful for all of those who helped our time be a little less crummy."
Candace also commends the Child Life program, which offers psychosocial support for kids and their families to enhance their experience and create a sense of normalcy, from watching movies, playing games or spending time in the playroom.
"I truly believe every hospital with a pediatric floor should have some sort of program such as this," says Candace, who is also grateful for the hospital volunteers.
"These amenities do not happen without the support and kind hearts of those who donate to these foundations, such as Children's Hospital Foundation," says Candace.
"I'm thankful for people who fundraise, donate and support this incredible Foundation."
While Aysen has some challenges in school due to OMS, including difficulty understanding sensory and simple tasks, the boy has handled life's curveballs with a strength beyond his seven years and is excited to make up for lost time on the ice and beyond.
"He is the biggest go-getter, never gives up and is doing amazing. He truly is my hero," says Candace.