Families Come Together To Make Things Possible: MRI Goggles Funded
Last week, Winnipeg Blue Bombers Quarterback, Matt Nichols and his wife took a moment to bring attention to a very important campaign – the Children's Hospital-HSC Winnipeg needed a pair of MRI Cinema Vision goggles to curb the anxiety and decrease the sedation needed for children when they undergo an MRI. Because of the Nichols family generosity, a movement was created, and today something incredible happened at the Children's Hospital Foundation of Manitoba. Today a group of families whose children undergo constant MRIs, came together to donate $15,000 to complete the purchase of the goggles.
"Manitoba Neurofibromatosis support group (MBNF) strongly feels the importance of making each and every doctor's visit for children with and/or without Neurofibromatosis, a positive one. Undergoing producers such as an MRI is a daunting and scary process on a normal day, let alone for a child who may be experiencing this for the first time", states Lyndon Demers, Co-President, Manitoba Neurofibromatosis Support Group. "Because of this, MBNF feels strongly about once again contributing to the Children's Hospital MRI Goggle Campaign with a donation of $15,000.00. Many Manitobans have benefited from the set currently in use and we would love to ensure no child has to undergo this procedure without them."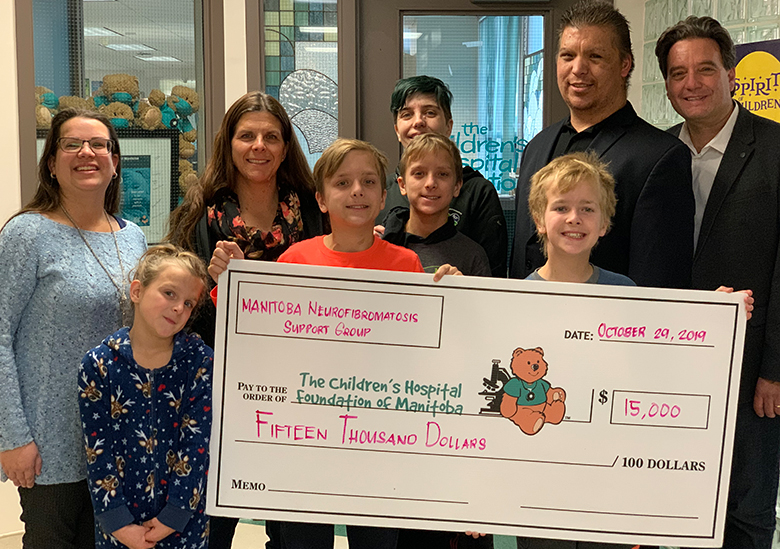 "We hope this second set will ease the fears of all children coming through the Children's Hospital who require an MRI. We are thrilled to be a part of giving each child a lasting positive experience."
In 2011, MBNF donated $25,000.00 to the Children's Hospital Foundation of Manitoba to fund the first set of MRI goggles. The Children's Hospital Foundation of Manitoba donors matched it with an additional $25,000 donation to complete the purchase.
"Grateful. Inspired. Moved. These are the three words that truly describe what is felt", states Stefano Grande, President & CEO, Children's Hospital Foundation of Manitoba.
"We are grateful to the over 700 donors that came together to make this possible. We are inspired that Matt Nichols and his family lit the spark that reignited the campaign. And we are moved that the Manitoba Neurofibromatosis Support Group took the baton to the finish line to not only benefit their children, but thousands more that require an MRI."
Cinema Vision goggles stats:
One pair of cinema vision goggles reduces the need for sedation by 30%
The goggles allow kids to watch an movie of their choice or listen to music
This distraction means scans are not lost due too claustrophobia
Since 2013, 850 children have benefited from one pair of Cinema Vision goggles
For more information on the impact donors make, visit goodbear.ca.
About Neurofibromatosis
Neurofibromatosis (NF) is a genetic disorder that causes tumors to form on nerve tissue. These tumors can develop anywhere in the nervous system, including the brain, spinal cord and nerves. The tumors are usually noncancerous (benign), but sometimes can become cancerous (malignant). Symptoms are often mild. However, complications of neurofibromatosis can include hearing loss, learning impairment, heart and blood vessel (cardiovascular) problems, loss of vision, and severe pain. Neurofibromatosis is usually diagnosed in childhood or early adulthood. Living with NF usually means an array of testing and procedures. Adults understand the importance of being still during procedures, however, this is a much more difficult task when infants and children are involved. Unfortunately many infants, children and teens need to be sedated to complete diagnostic procedures such as an MRI. For more information, visit mbnf.ca.
About Children's Hospital Foundation of Manitoba Inc.
The Children's Hospital Foundation of Manitoba is dedicated to ensuring that every child treated at the Children's Hospital receives the best medical care possible.
Since 1971, with incredible donor support, the Foundation has raised more than $100 million to improve the lives of sick and injured children from Manitoba, Northwestern Ontario, and Nunavut. Funding supports important programs that bring comfort to sick children during difficult times, the purchase of life-saving equipment, and the advancement of pediatric health research that will improve the lives of children everywhere. Learn more about the impact you make at goodbear.ca.
For more information, contact:
Tanya Williams, Director, Marketing & Communications, Children's Hospital Foundation
O: 204-787-4080, C: 204-330-2294, E: twilliams5@hsc.mb.ca