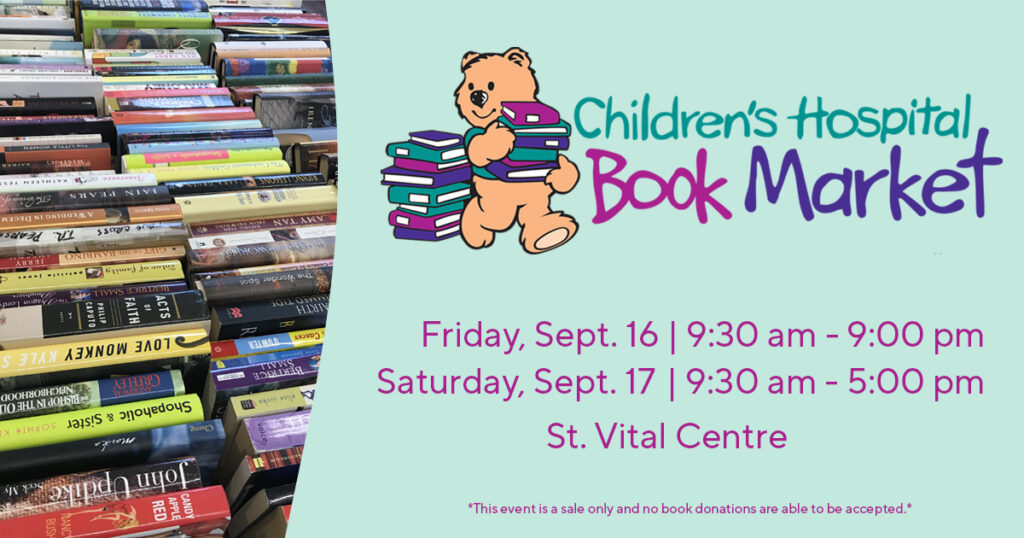 Event to be held September 16 – 17 at St. Vital Centre
Winnipeg, MB (September 15, 2022) – Volunteers are getting ready for an important event to help families in hospital. The Children's Hospital Book Market will return to St. Vital Centre September 16 -17, after more than two years on hold.
The sale, sponsored by Dufresne, features thousands of donated, gently used books and shoppers can choose from a wide variety of genres including fiction, sports, self-help, children's books and more. Proceeds will go towards helping the 130,000 sick and injured kids who need HSC Children's Hospital each year.
Book Market hours:
Friday, Sept. 16 | 9:30 am – 9:00 pm
Saturday, Sept. 17 | 9:30 am – 5:00 pm
This event is a sale only and no book donations are able to be accepted. Thanks to generous community members, there are still many donated books in storage and new ones cannot be accepted at the sale, at Dufresne Furniture stores or at fire halls.
The Children's Hospital Book Market has been on hold since spring, 2020 due to COVID-19. The Book Market was established in 1961 and is the longest-running volunteer-organized event in support of the Foundation.
"The Book Market event is an institution in our community and funds raised go towards urgent needs at our children's hospital," says Stefano Grande, Foundation President and CEO. "We're so grateful to organizer, Carol Irving, and the dedicated volunteers who have worked so hard to bring this fundraiser back."
All funds raised for the Foundation this year will go towards the $75 million Better Futures campaign, Manitoba's largest-ever donor-driven campaign in support of child health. The Better Futures campaign focuses on three areas of strategic priority in pediatric health care: critical infrastructure and facilities, leading-edge pediatric research on childhood illnesses, and innovative programs to bring comfort to families in hospital, like the Child Life programming the Book Market supports.
Prior to the pandemic, the Book Market raised between $300,000 – $500,000 annually for Child Life programs, including:
Children's Hospital TV (CHTV), the in-house TV station that provides free programming for all patients and broadcasts a live, daily show to engage and entertain kids in hospital
Music Therapy
The library program
The playroom, that has toys, games, space for special celebrations, activities like arts and crafts and a mini hospital environment where kids can learn about procedures and treatments they will experience in hospital
To learn about how the Better Futures campaign is helping transform child health care and research, visit goodbear.ca/BetterFutures.
Fun facts about Children's Hospital Book Market – Fall 2022
Running the Book Market requires help from more than 300 volunteers.
Volunteers are responsible for all roles at the Book Market, including reviewing book pricing, packing and moving books, setting up at St. Vital Centre, managing the many book tables, helping buyers find the perfect books and managing purchases – all to raise funds for HSC Children's Hospital.
Loading up warehoused books and moving them to St. Vital Centre requires four x 53-foot semitrailers and four tractors.
There are 87 pallets of books being transported to the fall Book Market. There's something for everyone on those pallets!
Book Market organizer, Carol Irving, has been working on the Book Market for 18 years and keeps this massive fundraiser running smoothly, with the help of many dedicated volunteers.
#GiveBetterFutures with Children's Hospital Foundation of Manitoba
You can change a sick child's life through the current $75 million Better Futures campaign. History-making changes in child health will ensure sick kids get the care they need in places of comfort and healing, in environments that physically and technologically match the excellence provided by healthcare professionals today. They'll benefit from leading-edge research focused specifically on the unique needs of kids in our communities. Manitoba's largest-ever fundraising campaign for child health NEEDS YOU to help #GiveBetterFutures to sick and injured kids. Because your present can change their future.
Since 1971, with incredible donor support, the Children's Hospital Foundation of Manitoba has raised more than $165 million to help sick and injured children from Manitoba, Northwestern Ontario, and Nunavut. The Foundation is dedicated to ensuring that every child treated at HSC Children's Hospital has the best care experience possible and benefits from the leading-edge research at Children's Hospital Research Institute of Manitoba. Learn about your impact at goodbear.ca.