After more than 30 surgeries, years of testing, and countless days in hospital nine-year-old Pacey Wall's digestive system still won't work.
"Even though it sounds like it's hopeless, it's not. We have an amazing team here. We trust them and we have a really great relationship with them," says Kim Wall, Pacey's mom.
Pacey has intestinal failure, but what's causing it is unclear. Pacey's condition started when he was two years old and has progressively gotten worse. He's had a wide range of surgeries to help his digestion and has now had his colon removed, and a colostomy placed. He can't eat solid foods, so he relies on total parenteral nutrition (TPN), which is a solution of essential nutrients given through an IV.
Since 2017 Pacey has been in and out of HSC Winnipeg Children's Hospital as complications came up, with his longest stay lasting six weeks. In 2020 he was in hospital for both Christmas and his birthday, so he's really gotten to know the Child Life team.
"Until you have a child in hospital for as long as Pacey has been you just can't truly understand what it's like," says Kim.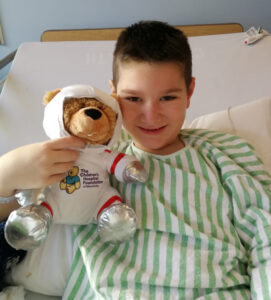 Child Life specialists are experts at helping kids cope with life in hospital. They provide music therapy, put on fun programs like the Good Day Show on Children's Hospital TV, and tend to kids' emotional and developmental needs.
When Pacey is in hospital he spends about three hours a day in the play room, watching CHTV, and doing other activities organized by Child Life.
"It's three hours a day he has to look forward to. No matter how yucky his day is, he knows he has that time (with the Child Life team) to just do fun things," says Kim.
Pacey has faced many painful and uncomfortable procedures. Kim remembers one particular day that had been very difficult. Child Life specialists came to check on Pacey and help him express what he was going through. They asked him to write all the things he hates about being in hospital on a target so they could squirt paint at those words to make them go away. But because Pacey loves the people and activities at Children's Hospital so much he didn't have anything bad to write down, he just wanted to put numbers on the target for points.
"That's the type of kid he is – he doesn't see anything bad here ever," says Kim.
Kim is thankful the Child Life team has so many ways to help Pacey enjoy just being a kid and says when he's feeling good he's unstoppable. Pacey loves training to be a ninja and is so fierce he popped the punching bag he has at home.
"You wouldn't know he was sick. He always looks amazing and he's chatting it up with everyone he passes in the hall, waving to everybody who walks," says Kim.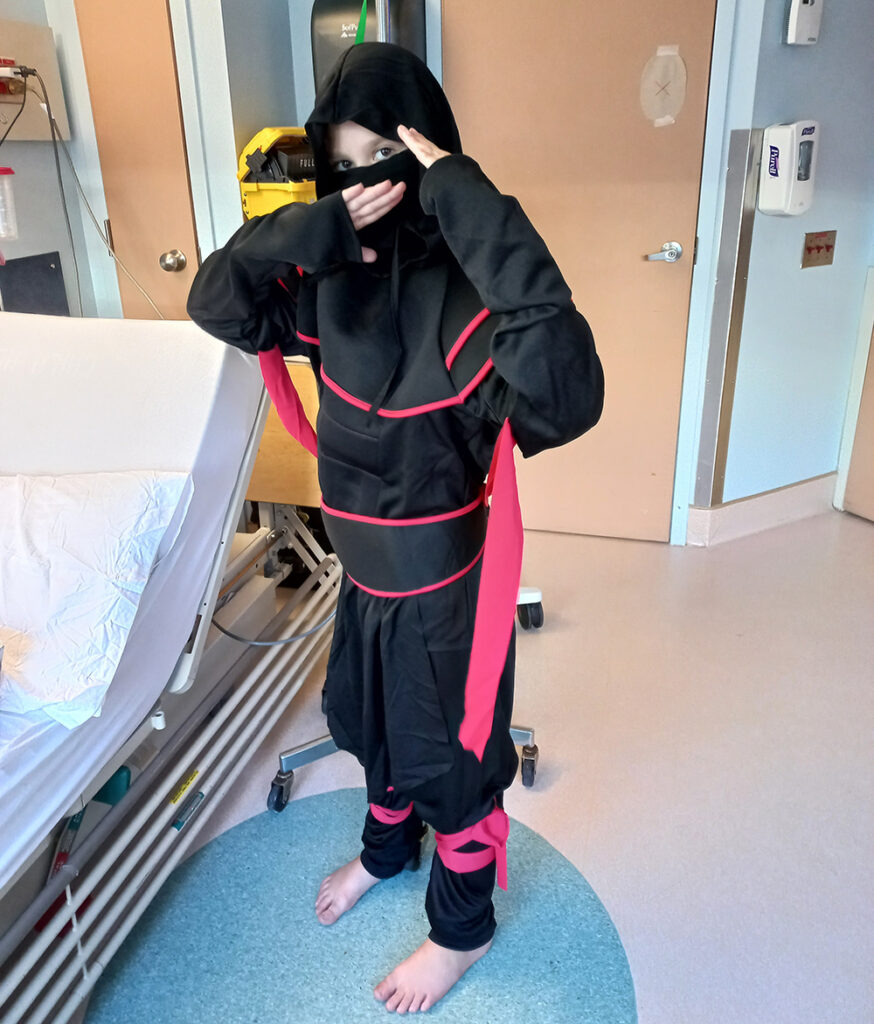 Kim says the Children's Hospital team has become like family to her, Pacey, his dad Benji, and his three sisters Addison, Bailey and Savannah. Pacey is so close to some of his surgeons he will play pranks on them, like taping a fake spider to his belly right before they begin a procedure.
Kim is grateful to the Children's Hospital team for continuing to support Pacey and searching for answers about his condition.
"It's been a battle for years but we still have hope."