Watching your child be born at 27 weeks and immediately rushed to the neonatal intensive care unit (NICU) is a scary moment for parents, but Tes and Philip Eusebio stayed positive throughout the ordeal.
While pregnant, Tes learned that she had preeclampsia, a condition where her blood pressure was extremely high, which led to her daughter becoming sick and needing to be born at 27 weeks. Gianna was just over a pound when she was born and had to go directly to the NICU. Gianna was experiencing congestive heart failure.
"About a month later, her lungs kept flooding up with water because of her heart, they had to put a PDA clip on her and had to do heart surgery on her. It was really hard, but how I perceived it was I couldn't show that while I was there, even though she was tiny I kept feeling that she would feel it. So all we did was be happy that she was here," Tes said.
"Three weeks later they found out she was partially blind so they did (laser eye surgery) on her as well, she was in the hospital for seven months. I think the biggest problem with her was she had to be on the CPAP (continuous positive airway pressure) the whole time because her lungs just weren't getting any better and everything else falls if you don't get enough oxygen."
Despite the rough start that Gianna endured, Tes attributes the great care she received at Children's Hospital for her daughter being here today.
"(The treatment) was so amazing; she's literally been in every department. Everyone there has been good, especially the NICU."
The Eusebio family hasn't forgotten about the great care they received while in the hospital with Gianna. Every year on Gianna's birthday the family makes a point of visiting the hospital to show their support and appreciation.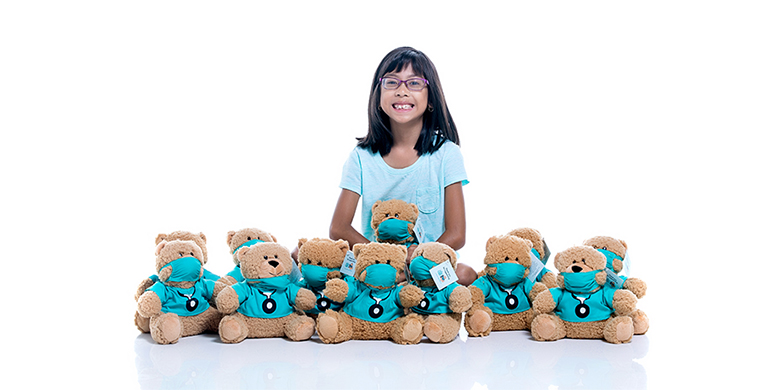 "Today, I can see with glasses, I use an inhaler to open my lungs to breathe and my mom says I have fire running through my veins", states Gianna. "I owe my life to the Children's Hospital and the people who support it. I know I am a miracle."
Gianna represented the Children's Hospital Foundation of Manitoba as our 2019 Champion Child. Gianna spent the year travelling across the province to share her inspiring story and even to Florida to meet other champions. On top of this, Gianna spent the year raising money to give back to the unit that saved her life, raising over $14,000 for the Neonatal Intensive Care Unit. The Champions program, run by the Children's Hospital Foundation of Manitoba, honours remarkable children who have triumphed despite severe medical challenges.
Thank you to all our donors and supporters who celebrated with Gianna in 2019!