The Champions program is part of the Children's Miracle Network (CMN) and honours remarkable children who have triumphed despite severe medical challenges. In 2020-21, Brady represents Manitoba as an ambassador for the 130,000 children who need HSC Children's Hospital every year. Brady shares his story at events throughout Manitoba as well as meets with other Champion Children from across North America. His story showcases what an amazing hospital and research institute we have here in Manitoba, as well as helps in fundraising to support other sick and injured children.
More about Brady
At five months old, Brady's parents noticed unusual spots on his body. He was seen by a dermatologist who diagnosed the little boy with Type 1 Neurofibromatosis – a genetic disorder that causes tumors to form on nerve tissue. These tumors can develop anywhere in the nervous system, including the brain, spinal cord and nerves.
The family continued to monitor small growths on Brady – sometimes feeling hundreds of them just under his skin. And for a while there were no other symptoms. But when Brady was six, a curve in his spine appeared. An MRI showed the little boy had a large tumour growing off his spine into his chest cavity. This was a plexiform neurofibroma – which is a larger, more extensive tumour- and because of where it was, it was inoperable. The family was devastated and parents Corinne and Brad wondered what the future would hold for their little boy.
Because the plexiform neurofibroma on his spine was so large, it caused Brady's spine to bend, much like a tree with branches on one side being too heavy. By age nine he needed surgery on his spine.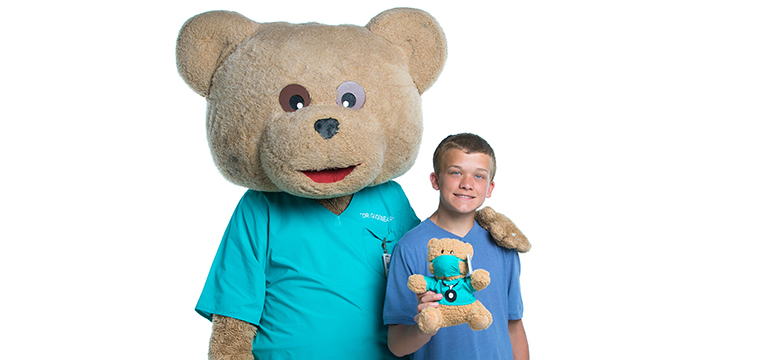 Brady has now had three spinal surgeries to implant rods into his back to keep his spine straighter. He goes to Children's Hospital for an MRI every 6 months.
Despite the rods in his back and the major surgeries he has had, now 12-year-old Brady is perseverant and doesn't let anything stand in his way. He loves to play hockey and baseball, and he hunts and fishes with his dad.
Brady will need to continue to visit the Children's Hospital until he goes into adulthood as his tumor growths require continued monitoring and his spinal rods need to be adjusted as he grows. The funds provided to the hospital will continue to help ensure the specialized equipment needed for his tests and surgeries are there when he needs.
Read more