Abigail underwent a chemotherapy treatment on the day she turned five. Not a great way to celebrate a birthday, but thanks to your support and the expert team at Children's Hospital, there are many reasons to celebrate.
"…you keep a happy face on and you cry when they sleep…"
Having to go to chemotherapy treatment for a year is difficult on anyone, especially when the patient is a child.
Seven-year-old Abigail Stewart was diagnosed with multi-system Langerhans cytosis when she was four- years-old. Multi-system Langerhans cytosis, where Abigail's white blood cells were eating away at her bones, acts like cancer and is treated like cancer, but isn't considered a cancer. As part of her treatment Abigail went through a year of chemotherapy and steroid treatment and is now in remission.
Abigail's mom, Ashley, said the family originally thought when Abigail first began to feel ill a trip to the doctor's office would be routine.
"I thought it was a disease that we just had to do antibiotics, I took her to the doctor for a bump on her head. I had taken her three or four times for the bump on her head, but kids get bumps on their heads," says Ashley.
"The second time her eye drooped, by the third and fourth time the doctor said he didn't think it was just a bump on the head. They did an x-ray and the bump on the head was a three inch tumour."
In addition to her chemotherapy treatment, with one treatment taking place on her fifth birthday, Abigail has undergone a number of procedures including a biopsy and a dental procedure to repair her teeth after they were damaged by the steroid treatment. They also scraped the tumour during another procedure and while the tumour is still there, it's inactive.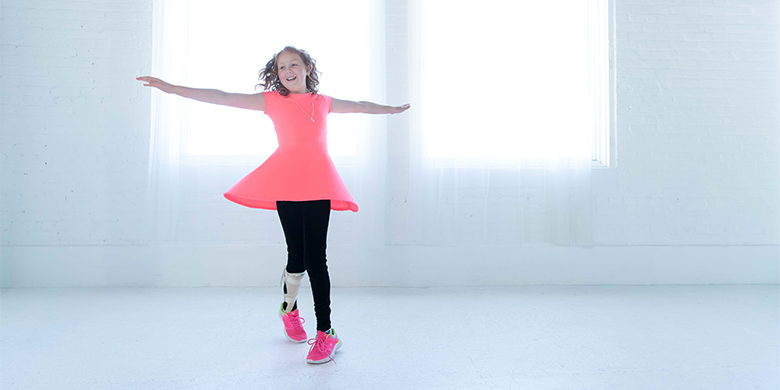 Having to take your child for treatment will never be easy for a parent, but the care Ashley and her family received made it easier.
"The care we received was great. There were two times where they tried to do it by IV, but her veins kept collapsing and I asked them to do something else. They were really good, right away they went with putting a line in, they were really quick and they got it in for the next treatment," says Ashley.
It's often difficult for families to discuss experiences such as this, but the inspiration for the family to share their story came from the person impacted the most.
"It's Abigail that wants to. Abby heard Ryan (Veldkamp, 2013/14 Champion Child, presented by Walmart) tell a story and she said last year that she really wanted to tell her story. It's meant a lot to Abigail," says Ashley.
"I think it's hard for any parent to see their kid go for chemo and be tired. She blew up like a balloon on steroids."
It was a difficult ordeal for their family, but they're happy that Abigail is in remission and are able to share her story with others.
"I think it's important to talk, don't bottle it in. During the process you just do it, you keep a happy face on and you cry when they sleep because you try to keep it as normal as possible. When I look back now I should have gone out for coffee once a week, talked and dealt with it," says Ashley.
"You always think, 'I have to do it for the family,' but you have to take care of yourself too as a parent."