Winnipeg, MB (May 14, 2022) – Colleen Horbay loved everything about HSC Winnipeg Children's Hospital. When she passed away in September 2020, her family decided to honour her lifelong passion with an endowment fund in her name.
"My mom was very special," says her daughter Mary-Lea. "She started out as a pediatric nurse in 1956 at Children's Hospital, and throughout her life remained very attached to the hospital and the Foundation. She volunteered there for 50 years, after all the kids came along, and she really made a difference in life at Children's Hospital."
Through the Children's Hospital Guild, Colleen played a vital role in some amazing initiatives, including the Children's Hospital Book Market.
"Nothing made my Mom happier than the Book Market and that season; marking the books and getting set. She would always say that they were the original recyclers, before recycling was fashionable," says Mary-Lea.
It was Colleen's commitment to volunteerism and her passion for Children's Hospital that led her family to create the Colleen Horbay Volunteer Award Scholarship, funded by an endowment they set up with the Children's Hospital Foundation.
"Through the endowment fund, we are able to continue to support the hospital through Volunteer Scholarship Awards. And that's going to go on forever, as long as Children's Hospital Foundation is around," says Mary-Lea. "The volunteers who are receiving the awards this year are incredible young women who take the time to volunteer, to be a part of the community, and to build something that's special. My mom was just like that."
The 2021 recipients are Hailey Hutchinson and Samara Pereles.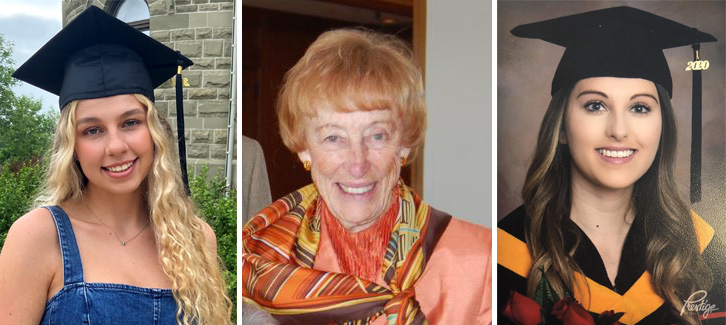 Hailey plans to attend medical school, and is well on her way, having recently achieved a Bachelor of Science (Neuroscience). Since 2020, she has volunteered at Children's Hospital. She appreciates the opportunity to provide play, assistance, and comfort for children and their families to help ease the challenges of being in hospital.
"Volunteering here helps me gain awareness of the many different roles whose conjoined efforts keep the hospital running, the fragile emotional states of families during treatment, and the importance of cultural safety, which will lead me to become a more competent healthcare provider in the future," says Hailey.
Samara intends to put her Bachelor of Science (Biochemistry) degree to work in the pharmacy program. She has been a faithful Children's Hospital volunteer since 2017 and still looks forward to her weekly shift.
"Giving back to the community by way of spending time with children in need of special care is humbling, yet inspiring," says Samara. "Volunteering here provides me with insight regarding the demands associated with a career in the medical field while teaching me the patience, understanding, and respect necessary in a professional medical setting."
Colleen was a passionate volunteer for 50+ years. Establishing the volunteer awards was a tangible way to honour her legacy by continuing to cultivate volunteers, recognize their contributions, and support the Foundation.
If you would like to contribute to the Colleen Horbay Endowment Fund, please click here and reference "The Colleen Horbay Endowment Fund" in the designation field of the donation form.
If you would like information about endowment funds and other ways to leave a legacy, please contact Courtney Nodrick at cnodrick@goodbear.ca.