Event held April 21 – 22 at St. Vital Centre raises critical funds for sick and injured kids
Winnipeg, MB (April 18, 2023) – Manitobans can get their book bags ready and head into Winnipeg for the Children's Hospital Book Market at St. Vital Centre April 21 – 22, 2023 where thousands of donated, gently used books from a wide variety of genres including fiction, sports, self-help, children's books and more are available at discounted prices.

Children's Hospital Spring Book Market hours:
Friday, April 21 | 10:00 am – 9:00 pm
Saturday, April 22 | 10:00 am – 5:00 pm
More than 300 volunteers have been dedicating their time for months in preparation for this event which raises funds for Children's Hospital Foundation of Manitoba. Volunteers are responsible for all roles including book collection Winnipeg Fire Paramedic Halls, reviewing books and then pricing, packing and moving books, setting up at St. Vital Centre and managing the many genre tables, helping buyers find their perfect read and managing purchases.
"The Children's Hospital Book Market is so very fortunate to have a dedicated volunteer base and without the loyal support of these volunteers, over many years, we would never be able to raise the funds we donate to Children's Hospital Foundation," Says Carol Irving, Book Market Coordinator. "We are also so thankful to book donors who drop off gently used, good condition re-saleable books, the shoppers who come every year for the great finds, and of course our sponsors who ensure we can operate each year."
Long time sponsor Dufresne is joined this year by new sponsor Amazon to support the needs of this event that raises funds for Child Life programming at HSC Children's – to provide comfort for kids and their families in hospital and includes music therapy, the library program, CHTV (the hospital's closed-circuit television station with content just for kids) and a playroom with toys, games, crafts and a mini hospital where kids can play out their experiences with treatments and procedures.
"Amazon is proud to be part of the local community, and we are thrilled to be supporting the Children's Hospital Book Market, which raises important funds for local families," said Jasmin Begagic, Director, Amazon Logistics Canada.
"The event provides a wonderful opportunity to help families in the hospital, while fostering a love of reading. We know it will be a tremendous success."
"Here at Dufresne, we believe in making a positive impact in our community, and being a drop off location for Book Market is just one of the was we can help," says Mike Linton, President, Dufresne. "Supporting the Children's Hospital Book market is a cause close to our hearts, and we are honoured to be part of such a meaningful event. We are excited to continue our partnership and look forward to contributing to another successful sale."
The Book Market was established in 1961 and is the longest-running volunteer-organized event in support of the Foundation. Since it began, this event has raised more than $7.5 million to support HSC Children's Hospital. The Fall 2022 sale, the first after a hiatus due to COVID-19, made over $246,000.
"The Book Market event is an institution in our community and is critical for the sick and injured kids who need HSC Children's," says Stefano Grande, Foundation President and CEO. "We're deeply grateful to the amazing group of volunteers who dedicate their time to hosting this important event and to sponsors, St. Vital Centre, Dufresne, and Amazon, who ensure the sustainability of this important community fundraising event."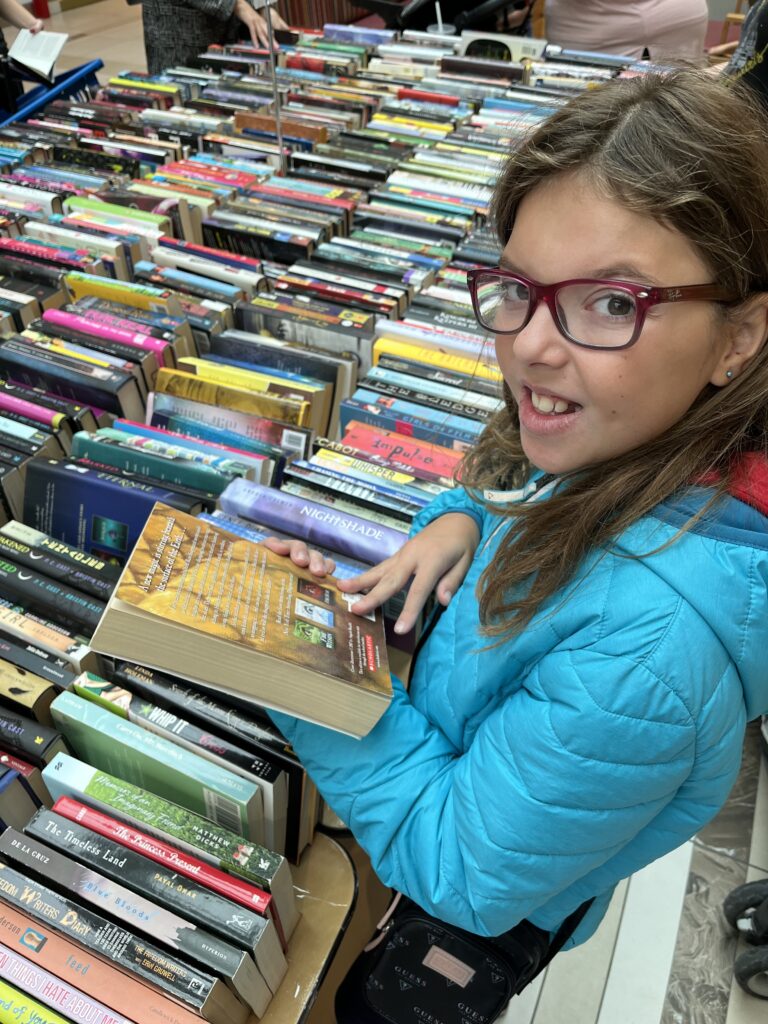 All funds raised at the Book Market will go towards the $75 million Better Futures campaign, Manitoba's largest-ever donor-driven campaign in support of child health, which focuses on three areas of strategic priority in pediatric health care: critical infrastructure and facilities, leading-edge pediatric research on childhood illnesses, and innovative programs to bring comfort to families in hospital – like the Child Life programming the Book Market directly supports.
To learn about how the Better Futures campaign is helping transform child healthcare and research, visit goodbear.ca/BetterFutures.
#GiveBetterFutures with Children's Hospital Foundation of Manitoba
You can change a sick child's life through the current $75 million Better Futures campaign. History-making changes in child health will ensure sick kids get the care they need in places of comfort and healing, in environments that physically and technologically match the excellence provided by healthcare professionals today. They'll benefit from leading-edge research focused specifically on the unique needs of kids in our communities. Manitoba's largest-ever fundraising campaign for child health NEEDS YOU to help #GiveBetterFutures to sick and injured kids. Because your present can change their future.
Since 1971, with incredible donor support, the Children's Hospital Foundation of Manitoba has raised more than $165 million to help sick and injured children from Manitoba, Northwestern Ontario, and Nunavut. The Foundation is dedicated to ensuring that every child treated at HSC Children's Hospital has the best care experience possible and benefits from the leading-edge research at Children's Hospital Research Institute of Manitoba. Learn about your impact at goodbear.ca.