A meaningful donation just in time for I Love to Read month
Winnipeg, MB (February 1, 2021) – A gift of Muslim books to the HSC Winnipeg Children's Hospital Family Libraries is honouring the life of a local father and celebrating diversity. The large collection means kids at the Children's Hospital can learn about important events like Ramadan, Muslim culture, and see themselves represented in story.
Rana Bokhari made the donation to honour her father, Syed Tahir Imam Bokhari, who passed away in January of 2020. Bokhari says part of her culture as a Muslim means finding ways to benefit the community in her father's name.
"For every good deed my siblings and I perform it means our father taught us well. I did this so he gets the benefit from anyone who enjoys those books," says Bokhari. "It's a way to miss him and to heal."
Bokhari's connection to the Children's Hospital runs deep. When they were kids, her younger sister was diagnosed with Type 1 Diabetes and spent more than a month in hospital with Bokhari by her side. Bokhari says she and her sister would have found books about their culture comforting during that stressful time and would like to give other kids that comfort.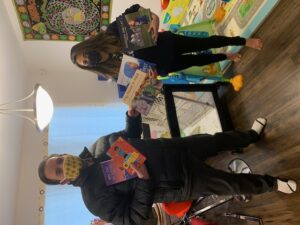 "Giving children and families the choice of picking a book and being able to be distracted while they're in hospital is so valuable," says Emma Robin, Coordinator of the Children's Hospital Family Libraries. "For many families the time they spend in hospital reading together offers a sense of normalcy, comfort and can be a reprieve during a very difficult time."
I Love to Read month is an important celebration at the Children's Hospital. Kids are encouraged to explore all different kinds of books and will even have some special guests stop in virtually to read stories aloud.
The collection Bokhari is donating has 75 books that all feature Muslim characters including comic books, series, and picture books.
"The Children's Hospital helps kids from many different cultural backgrounds and diversity in programming is so important to us," says Stefano Grande, President and CEO of the Children's Hospital Foundation of Manitoba. "We are so grateful for donors like Rana Bokhari who make comfort and culture that much more accessible to the children who need the hospital every day."
To support the libraries at Children's Hospital, including with gifts of books in languages other than English and that celebrate and reflect our diverse communities, or to learn more about how you can help visit goodbear.ca.
I Love to Read month celebration
Celebrating 50 years of community impact (1971-2021)
Children's Hospital Foundation of Manitoba is dedicated to ensuring that every child treated at HSC Winnipeg Children's Hospital has the best care and experience possible.
Since 1971, with incredible donor support, the Foundation has raised more than $100 million to help sick and injured children from Manitoba, Northwestern Ontario, and Nunavut. Funds support important programs that bring comfort to sick children, life-saving equipment, and health research to improve the lives of children everywhere. Let's make anything possible. Learn about your impact at goodbear.ca.
For more information:
Sara Shyiak
Marketing & Communications Specialist
Children's Hospital Foundation
204-794-0094
sshyiak@goodbear.ca