Keira Davlut raises more than $17,000 for Child Life Programming at HSC Children's Hospital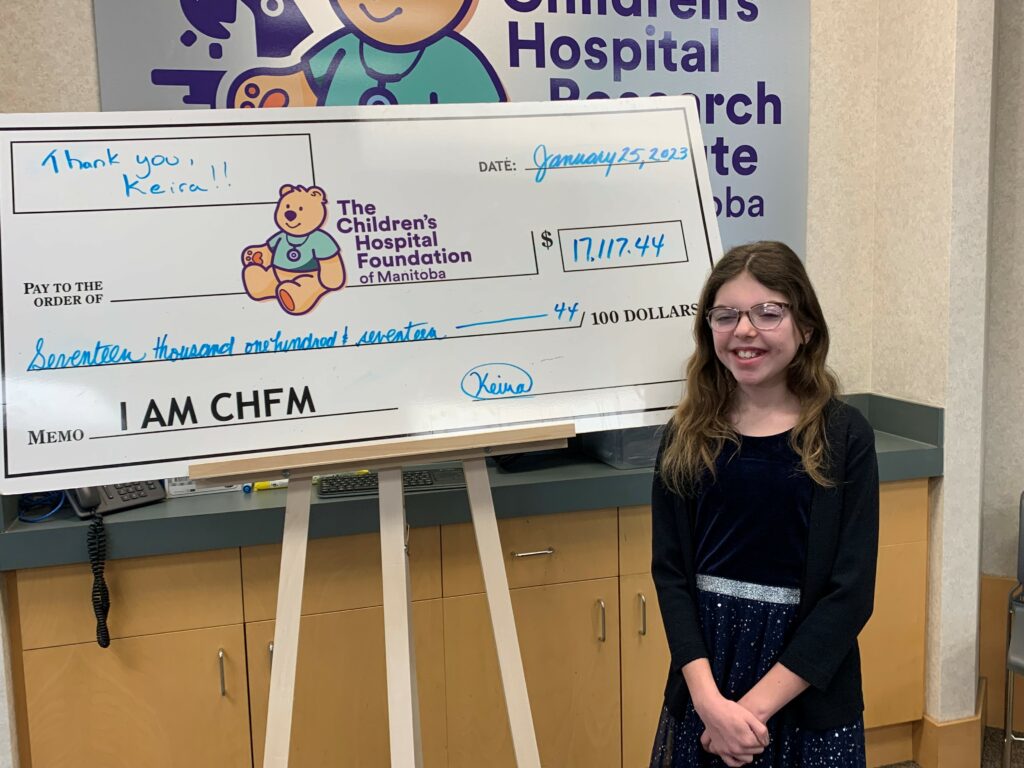 Winnipeg, MB (January 25, 2023) – Keira Davlut, who has spent the past year as Manitoba's Champion Child, has surpassed her goal of $10,000 and raised $17,117.44 to support sick and injured kids. As an ambassador for kids like herself, who need HSC Children's Hospital, Keira is now giving the hospital a special gift as she ends her time as Champion Child.
Keira was born with craniosynostosis, a disorder where the plates of the skull fuse too early, not giving the brain enough space to fully develop. Keira has returned to HSC Children's Hospital for several surgeries to open the fusion and support the shaping of her skull, with her first one happening at just 9 months old. Although she continues to have some vision impairment, a remnant of her craniosynostosis at birth, today Keira is a happy and healthy 12-year-old.
"When I've been helped at Children's Hospital through surgeries and specialists, I also always felt safe and happy because the Child Life program was there for me with fun things to do," says Keira. "I want to help other kids who need to be in the hospital to have that great support from Child Life Specialists and enjoy things like music therapy and CHTV."
Keira has spent the last year as Champion Child for Manitoba, speaking on behalf of 130,000 other children who need the Children's Hospital each year. Keira has attended more than 40 events to share her story, showcase the amazing work and research being done in Manitoba and help #GiveBetterFutures campaign at Children's Hospital Foundation of Manitoba.
Keira presented a cheque for $17,117.44 to the Child Life team to help the specialists further support patients' development when medical situations arise. The money will help the team fund special activities designed to promote child development, and ensure kids still get to be kids when in hospital.
"Keira is making a difference for kids and their families by supporting the Child Life program," says Dr. Patricia Birk, Professor and Head of the Department of Pediatrics and Child Health at HSC Children's. "These programs help distract kids from the tough times, give them an outlet and provide comfort while in hospital."
"Keira is my hero," says Stefano Grande, President & CEO of Children's Hospital Foundation of Manitoba. "Her courage in speaking to thousands of people and sharing her story in support of healthcare is tremendous, and from the bottom of our hearts we want to thank her for everything she has done over the past year as our Champion Child."
Stay tuned to the Children's Hospital Foundation of Manitoba social media channels @CHFManitoba on February 17th for the announcement of the 2023 Champion Child!
About the Champions Program
Every year in Canada, local Children's Miracle Network (CMN) member hospitals identify a "Champion" in each of their local communities to serve as the face for children treated at their local children's hospital. These brave and spirited ambassadors spend their year advocating for the charitable need of children's hospitals by sharing their unique stories with Canadians, their communities and partners. Their goal is to encourage everyone to join the fight for children's health through local support, events and CMN Canada programs.
Children's hospitals rely on donations to provide care for kids — no matter their illnesses or injuries.
#GiveBetterFutures with Children's Hospital Foundation of Manitoba
You can change a sick child's life through the current $75 million Better Futures campaign. History-making changes in child health will ensure sick kids get the care they need in places of comfort and healing, in environments that physically and technologically match the excellence provided by healthcare professionals today. They'll benefit from leading-edge research focused specifically on the unique needs of kids in our communities. Manitoba's largest-ever fundraising campaign for child health NEEDS YOU to help #GiveBetterFutures to sick and injured kids. Because your present can change their future.
Since 1971, with incredible donor support, the Children's Hospital Foundation of Manitoba has raised more than $165 million to help sick and injured children from Manitoba, Northwestern Ontario, and Nunavut. The Foundation is dedicated to ensuring that every child treated at HSC Children's Hospital has the best care experience possible and benefits from the leading-edge research at Children's Hospital Research Institute of Manitoba. Learn about your impact at goodbear.ca.