(January 10, 2020) – Born early at 27 weeks old, weighing just over a pound, partially blind and experiencing congestive heart failure, Gianna Eusebio was rushed to the Neonatal Intensive Care Unit (NICU). Doctors saved her heart, but Gianna was then required to stay in hospital for seven months and have laser eye surgery as an infant. For the first two years of her life, Gianna had many specialists, including feeding, physio, speech and occupational therapy.
"It took a village of doctors and nurses around the clock to help get me better. I was in the Neonatal Intensive Care Unit, and graduated to other units after that," says Gianna.
Now 11-year-old Gianna has spent the last year as 2019 Champion Child for Children's Hospital Foundation of Manitoba, speaking on behalf of 130,000 other children who need Children's Hospital-HSC Winnipeg each year. During her role, Gianna travelled to Florida to meet other child champions from Canada and the U.S. who represented their local Children's Hospital. She also shared her story at more than 40 events across Manitoba, inspiring many while showcasing what an amazing hospital and research institute we have here.
"Gianna shows the resiliency of children after they receive the healthcare they need when they need it," states Stefano Grande, President & CEO of Children's Hospital Foundation of Manitoba.
"She has shared her story to ensure other kids like her will always have the services of the Children's Hospital when they need it. We're so proud of what she accomplished and thank Gianna and her family for being wonderful ambassadors for our Foundation."
Today Gianna gives back, presenting $14 thousand, the money she has raised over the past year, to the unit that saved her life as a baby. "Keep my story in your heart and ask others to open theirs to make many more miracles happen like me," says Gianna.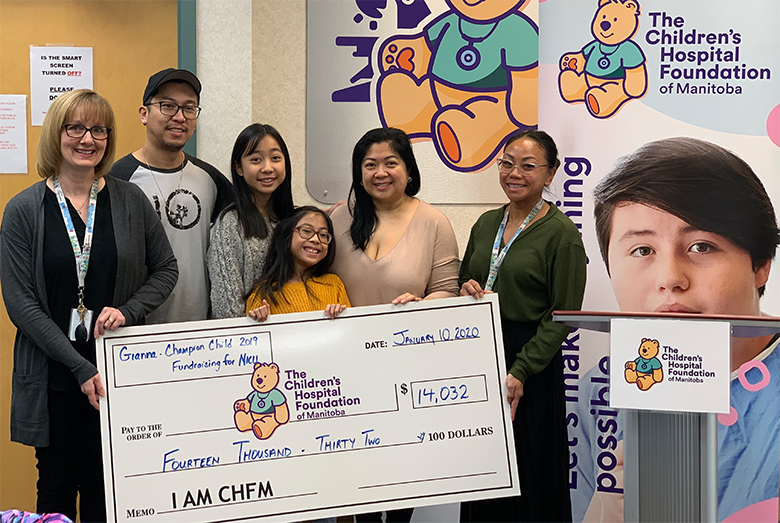 Stay tuned to the Children's Hospital Foundation of Manitoba social media channels @CHFManitoba on January 16th for the announcement of the 2020 Champion Child!
About the Champions Program

Every year in Canada, local Children's Miracle Network (CMN) member hospitals identify a "Champion" in each of their local communities to serve as the face for children treated at their local children's hospital. These brave and spirited ambassadors spend their year advocating for the charitable need of children's hospitals by sharing their unique stories with Canadians, their communities and partners. Their goal is to encourage everyone to join the fight for children's health through local support, events and CMN Canada programs.
One of the largest celebrations of these Champions takes place during Children's Hospitals Week. Children's Hospitals Week Canada is supported by Walmart and additional sponsors The Brick and Air Canada Foundation. Champion children, member hospital foundation ambassadors, and corporate partners will all gather together in Orlando, Florida, to promote the hospitals' need for funds.
Children's hospitals rely on donations to provide care for kids — no matter their illnesses or injuries. Help spread this message during #ChildrensHospitalsWeek, beginning April 6, 2020. childrensmiraclenetworkhospitals.org/childrenshospitalsweek
About Children's Hospital Foundation of Manitoba Inc.

The Children's Hospital Foundation of Manitoba is dedicated to ensuring that every child treated at the Children's Hospital receives the best medical care possible.

Since 1971, with incredible donor support, the Foundation has raised more than $100 million to improve the lives of sick and injured children from Manitoba, Northwestern Ontario, and Nunavut. Funding supports important programs that bring comfort to sick children during difficult times, the purchase of life-saving equipment, and the advancement of pediatric health research that will improve the lives of children everywhere. Learn more about the impact you make at goodbear.ca.