Content warning: depression and attempted suicide
Depression can be a heartbreaking condition and it almost cost Morgan her life. She finds it painful to remember there was a time she didn't want to be alive.
"That's probably the toughest part now to accept, the fact that I was so okay with leaving."
When Morgan was in seventh grade she started to face serious mental health concerns. Her parents knew she was struggling and set her up with a psychologist but the scope of her challenges wasn't yet clear.
"I thought I was just sad. I didn't think it was mental health so I never really brought it up to anybody or talked about it," says Morgan. "Because of that it got to the point where I wasn't capable of taking care of it on my own."
Morgan feelings became so crushingly painful that she made an attempt to take her own life.
"I know how it feels to be that low and I never want anyone to feel that way. It genuinely is so exhausting and it's draining," says Morgan.
When Morgan hit that extreme low she was alone in her bedroom. She began to feel afraid and texted a friend who insisted she call 911. An ambulance showed up at her front door, shocking her family, and paramedics took her in for treatment.
"That was really scary for all of us because it was way bigger than we even thought it was," says Morgan's mom, Bridgette.
At the hospital Morgan's parents decided along with doctors that Morgan would stay in the Child & Adolescent Mental Health inpatient unit at HSC Winnipeg to get the support she needed. The inpatient program team includes mental health professionals, nurses, recreation therapists, and even aides to help with schoolwork.
Bridgette remembers it was extremely difficult to leave her daughter at the hospital, and she cried in the car for a long time before finding the strength to drive away. While she knew Morgan was safe, she felt devastated that her daughter was going through something so painful.
"There were days where we were barely keeping it together. It's hard on the whole family," says Bridgette.
During her stay at HSC, a psychiatrist met with Morgan every day. She found it difficult to open up but when she did, she felt relief.
"I felt like I wasn't going through all of this alone anymore. I felt like if I am really in the deep and desperate for help someone is aware of what I'm going through," says Morgan.
Kids and youth in the unit are able to do activities together and chat in common areas. Morgan found forming bonds with those in similar circumstances comforting.
"That was the biggest thing that helped me get better, knowing that I wasn't alone and that there's nothing wrong with feeling this way," says Morgan. "It's just a matter of reaching out and getting the help that you need so that you can get better."
The first stay in the inpatient program helped Morgan feel more comfortable talking about depression, but she was still just starting her journey. An incident at school led to Morgan staying a few days at a crisis centre for youth and at the beginning of eighth grade she hit another extreme low. She once again made a suicide attempt and called an ambulance to help.
Morgan and her family decided she would check into hospital for a second time. She began this stay with a positive outlook, knowing the program was what she needed to heal.
Between hospital stays and for months afterwards HSC continued to support Morgan and her family through the outpatient program. Bridgette recalls having two or three appointments every week for one-on-one, group and family therapy.
"We feel really fortunate that whenever we needed a bed or whenever we needed medical support it was available to us," says Bridgette. "The inpatient care and the outpatient care that we received was phenomenal."
Morgan remembers staff always did their best to bring positivity to life in hospital, like a psychiatrist who always wore fun ties.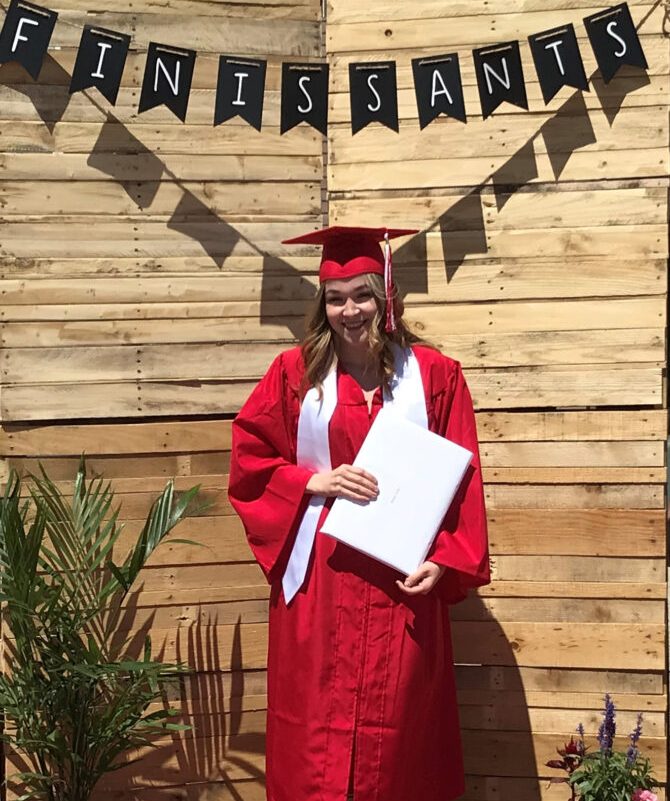 "One day he walked into my room and he had a Spiderman tie on, one day it was a Snoopy tie," says Morgan. "Things like that gave me a little bit of happiness. It was a couple minutes of distraction and you'd just forget you're in the hospital."
Bridgette says it was initially difficult to share their family's story because of the stigma surrounding mental health issues, but approaches Morgan's care the way a parent would any other medical condition. She wants families to know they're not alone.
"There are lots of families going through this. Even if it appears like their life is swimming along wonderfully, behind the scenes they could be struggling," says Bridgette.
Morgan can now manage her depression with medication and skills she learned in hospital. She graduated high school in June 2021 and will begin university in the fall, where she plans to become a teacher.
"I tried giving up a couple years ago and it made me four times stronger. I'm proud of myself for what I have accomplished. How far I have come is completely outstanding to me."
Mental health support for children and youth
Between 500 and 600 children ages 10-17 are admitted to the 14-bed Child & Adolescent Mental Health inpatient unit every year. The unit serves youth with a range of acute mental health concerns such as depression, anxiety disorders, psychosis and suicide attempts or ideation.
For a list of Mental Health Crisis and Non-Crisis Regional Contacts in Manitoba click here.