Details Announced for Teddy Bear Toss on December 7
On Saturday, December 7th when the ICE host the Kamloops Blazers at the ICE Cave, (Wayne Fleming Arena – UofM) fans are encouraged to bring a new-condition teddy bear to throw on the ice after the ICE score their first goal of the game.
It is important to secure your teddy bear in a plastic bag to ensure they do not get damaged on the ice surface, and remain clean during transportation. All teddy bears will be collected and donated to the Children's Hospital Foundation of Manitoba by ICE players.
Special guests of the Children's Hospital will be in attendance, along with bears available for purchase.
There will be a large showing from the St. Boniface Minor Hockey Association at the game, where they will also debut their new mascot; Celly.
Fans are encouraged to buy tickets online in advance HERE and use promo code SAVE for 25% off their tickets!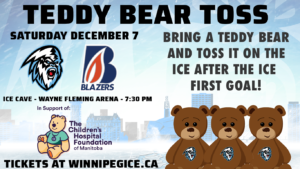 About Children's Hospital Foundation of Manitoba Inc.
The Children's Hospital Foundation of Manitoba is dedicated to ensuring that every child treated at the Children's Hospital receives the best medical care possible.
Since 1971, with incredible donor support, the Foundation has raised more than $100 million to improve the lives of sick and injured children from Manitoba, Northwestern Ontario, and Nunavut. Funding supports important programs that bring comfort to sick children during difficult times, the purchase of life-saving equipment, and the advancement of pediatric health research that will improve the lives of children everywhere. Learn more about the impact you make at goodbear.ca.